29 October 2009, nmancer @ 4:25 pm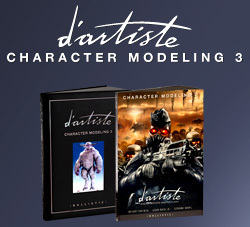 (Source: prweb.com) d'artiste Character Modeling 3 takes you into the creative minds of some of the best game and movie 3D character modelers and digital sculptors in the world. From the modeling team of the blockbuster PlayStation 3 game 'Killzone 2′ headed by Guerrilla Games, to top Hollywood modelers Cesar Dacol Jr. and Industrial Light & Magic's Giovanni Nakpil, each page is jammed full of techniques and approaches that will take your modeling skills to the next level.
The book begins with the work of Cesar Dacol Jr. where he draws upon 20 years of experience working in the movie industry to create three very different creature designs from concept sketch through to textured final render. Cesar's philosophy on working in the creative industry is well-explained, and his personal gallery showcases the many movie influences in his career. Next is the team from Guerrilla Games who show the techniques used on a major game project to create compelling characters. Jan-Bart van Beek, Art Director at Guerrilla Games, in conjunction with Massive Black details the process of game character head modeling from photography through to in-game characters. He then shows how the Helghast Sniper character class is created from sketch through to unique in-game texture effects with the help of Liquid Development. Jan-Bart also explains the workflow of a major game studio as it works with its partners, and the challenges of working with the currently available tools. Finally, Giovanni Nakpil, senior modeler at Industrial Light & Magic showcases his sculptural skills by conceiving a creature in clay, and then taking it through the process of modeling the forms, refining the topology, to the final steps of rendering and presentation. Giovanni's personal gallery showcases his amazing talent in both 3D and sculpture, and his invited artist gallery includes a who's who of legendary Hollywood modelers.
Full Press:  prweb.com
Write a comment