29 October 2009, nmancer @ 4:25 pm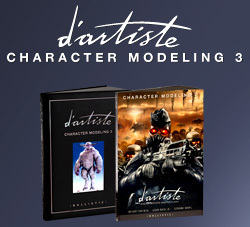 (Source: prweb.com) d'artiste Character Modeling 3 takes you into the creative minds of some of the best game and movie 3D character modelers and digital sculptors in the world. From the modeling team of the blockbuster PlayStation 3 game 'Killzone 2′ headed by Guerrilla Games, to top Hollywood modelers Cesar Dacol Jr. and Industrial Light & Magic's Giovanni Nakpil, each page is jammed full of techniques and approaches that will take your modeling skills to the next level.
29 October 2009, nmancer @ 4:22 pm


(Source: latimes.com) The Walt Disney Co. said Wednesday that it would build a 56-acre production facility in northern Los Angeles County, casting a ray of light on an otherwise gloomy film economy that has hemorrhaged thousands of jobs in the last decade.
The Burbank company said the proposed Disney/ABC Studios at the Ranch would occupy a corner of the Golden Oak Ranch, a sprawling 890-acre parcel off California 14 that has been the setting of such classic films as "Old Yeller." Plans call for 12 soundstages, production offices, a commissary and other facilities that could be used for film, television, commercial and new media projects.
29 October 2009, nmancer @ 4:21 pm


(Source: shootonline.com) Daniel Jeannette, who served as animation director and visual effects supervisor on the recently released Spike Jonze-directed feature film Where The Wild Things Are, has embarked on a directorial career, joining San Francisco-area production house Hoytyboy Pictures for spots and branded content.
Jeannette is no stranger to commercialmaking, having been an animator on select ad projects, including a cel animation Kellogg's job for the U.K. market back when he was at Passion Pictures, London. Years later, upon moving stateside and hooking up with Industrial Light+Magic (ILM), San Rafael, Calif.–where he enjoyed a 10-year tenure, primarily in feature films–Jeannette was animator on a CGI/visual effects/live-action combo spot for GMAC.