6 October 2009, nmancer @ 11:09 am
(Source: Wired) So many movies, so many plot holes. We geeks can find plot holes in almost any movie, no matter how well-written and directed it is. We may not readily admit it, but we'd probably be a bit disappointed if we ever saw a movie without a single tiny plot hole.
The first list of unanswered questions (a kind euphemism for "plot holes") we published a couple of weeks ago seemed to be fairly popular; so, as people in the movie business always do, we've cooked up a sequel. This time, we're making it a little more challenging by avoiding low-hanging fruit like Independence Day.
10. Star Trek (the 2009 movie): Nero's patience – Having destroyed the Kelvin, Nero bides his time until Old Spock appears from the black-hole-created temporal rift. This takes 25 years, but he waits because he wants Old Spock to watch Vulcan's destruction as retribution for his failure to save Romulus. Surely with the advanced technology on his mining ship, Nero could have traveled to Romulus and done something to either warn the Romulans of (what is to him) the past about the supernova, or used the magic "red matter" to rectify the supernova situation ahead of time. Considering how impatient he is after Old Spock shows up, it's truly remarkable how patient he is before that.
6 October 2009, nmancer @ 10:35 am
(Source: Variety) Visual effects studio Digital Domain is expanding, opening a branch in Vancouver, B.C.
Hiring begins immediately at DD's Vancouver branch, with 50-60 artists coming onboard and more than 100 by year's end. The facility will be built out to some 20,000 square feet and will be dedicated to feature film vfx.
It will launch with work on Disney's "Tron Legacy," which is already in production at DD's Venice studio.
DD also announced it has tapped veteran vfx executive and Oscar winner Gloria Borders for a new post: president, feature film operations. Borders will be based in Venice, Calif., and oversee vfx production at both facilities. All vfx supervisors and producers on DD's movies will report to her. She will report directly to CEO Cliff Plumer.
6 October 2009, nmancer @ 10:01 am
Soda. Coffee. Water. Next time to you go to the movies, chug 'em all down.
As long as you have a new iPhone app by your side, you'll know when you can escape to the bathroom without missing the best parts.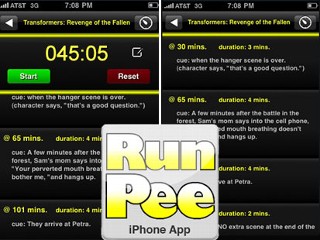 Approved by Apple's App store earlier this week, RunPee (yes, really) promises to be the small-bladdered moviegoer's best friend.
The application features all the movies currently playing in theaters and tells users approximately how far into the movie each "pee time" begins, the cue line to listen for and even what they've missed. (When you're on your way back to your seat, you can hit a button to unscramble text that provides a short synopsis.)