3 September 2009, nmancer @ 12:11 pm


(Source: ptinews.com) DreamWorks Studios, the collaborative venture between industrialist Anil Ambani and Oscar-winning filmmaker Steven Spielberg has announced its first three films.
The three future projects, 'Pirate Latitudes', 'I am Number 4′ and 'Harvey', will be helmed by some of the biggest names in Hollywood.
'Transformers' director Michael Bay is in talks to direct the sci-fi thriller 'I Am Number 4′ which has been adapted by Al Gough and Miles Millar from the bestselling novel 'A Million Little Pieces', said a press statement.
The duo's scripting credits include 'Spider-Man 2′, 'The Mummy: Tomb of the Dragon Emperor', 'Shanghai Noon' and 'Shanghai Knights'.
3 September 2009, nmancer @ 12:06 pm
Why? Because the iPhone sucks up network bandwidth on a rather massive scale. The article, available online, tells a story most iPhone users already know. 

AT&T was unprepared for the massive assault on the 3G network from phones that stream audio and video, and surf the web at a rate far higher than other smartphones.

The piece quotes AT&T Wireless exec John Donovan saying "It's been a challenging year for us. Overnight we're seeing a radical shift in how people are using their phones… There's just no parallel for the demand."

That won't make AT&T customers any happier. A recent survey by Pricegrabber found that 34% of those that responded say they aren't buying an iPhone because it is on AT&T. Many current customers say they'd like to be anywhere but AT&T with their iPhone, but it's likely that a mass migration to Verizon or some other carrier might cause the same problems there.
3 September 2009, nmancer @ 12:04 pm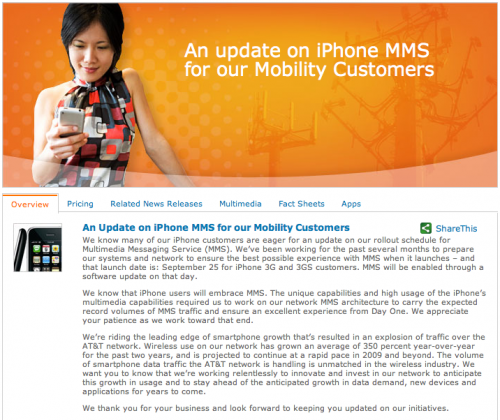 AT&T has issued a press release today announcing that MMS will become active for iPhone users on September 25.
We've been working for the past several months to prepare our systems and network to ensure the best possible experience with MMS when it launches – and that launch date is: September 25 for iPhone 3G and 3GS customers. MMS will be enabled through a software update on that day.
AT&T points to the need for the company to build out its network infrastructure to handle the demands of heavy MMS messaging volumes as the primary reason for the delay in launching the service compared to carriers in other countries that have offered MMS since the launch of iPhone OS 3.0 in June.
3 September 2009, nmancer @ 10:29 am
(Source: BoingBoing) Watch these smash-and-grab burglars clean out the Sagemore Apple store in Marlton, New Jersey in 31 seconds (skip to 0:56 to see it). Reminds me of the game-show where contestants had to fill their shopping carts with the most valuable groceries in a big supermarket as quickly as possible.
[If the embedded video below doesn't work, you can watch it here]