12 March 2009, nmancer @ 3:21 pm
The fine folks over at Instructables have posted some wild mods in their time, but the musical bra you see above inhabites its own realm in terms of weirdness and lack of usefulness… unless you really want a bra that makes music of course. The speaker is on the front, with a battery pack between the shoulder blades at the back, and each cup is equipped with eight different "sounds" culled from a small keyboard, which are triggered by custom-made buttons sewn into the bra. Hit the read link for the full rundown of how to make one of your very own, but fair warning: you're going to have to be pretty adept with needle and thread to get this project done, but the final result should be fairly priceless. After all, who doesn't want a clunky, hideous sports bra that makes noise? Exactly.
12 March 2009, nmancer @ 10:59 am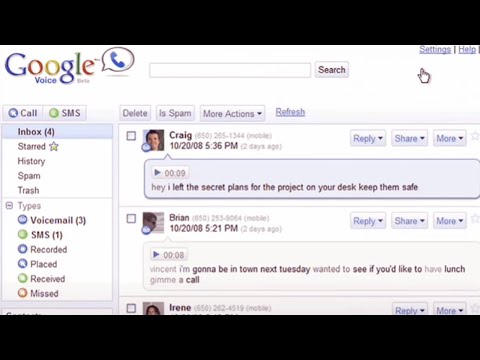 Google is seeking to blur the line between the telephone and the computer even further with the introduction of Google Voice on Thursday.
The new service weaves traditional phone features with Google's Gmail email product, allowing a person to store transcripts of voicemail phone messages in their email inbox and to find a specific nugget of information within a phone message as if trawling through a sea of emails.
The move comes as Google increasingly branches out from its stronghold in Internet search, as it seeks to carve out a role in everything from cell phones to personal productivity software.
12 March 2009, nmancer @ 10:41 am
Earlier today, Apple issued a press event announcement that promises to offer a "sneak peek" at iPhone OS 3.0. It'll go down at 10am Pacific on March 17th in Apple's Town Hall building in Cupertino.
As usual, the whole thing is rather cryptic. From the "blueprint" graphic and text, it sounds like the event will be limited to an overview (but not a release) of iPhone OS 3.0. Perhaps we'll learn a bit about any changes to the SDK as well.
What would you like to see? Copy and paste, for sure. Push notifications for 3rd party apps next. Anything else?
12 March 2009, nmancer @ 10:37 am
With the world having fewer and poorer billionaires this year amid the financial crisis and global recession, most of the richest people in the media and entertainment world have also largely seen their net worth drop.
Oprah Winfrey is a rare gainer in terms of both rank and net worth on the 23rd annual Forbes World Billionaires list, unveiled here Wednesday. She jumped from spot 462 to 234 with her estimated net worth rising from $2.5 billion to $2.7 billion, according to Forbes.
12 March 2009, nmancer @ 10:32 am


(Source: vancouversun.com)  Advances in digital effects have thrown open the gates for comic book stories and graphic novels to be rendered in film like never before. Standing just inside the gates is a handful of Vancouver companies that are delivering on that promise.
With the film based on Alan Moore's graphic novel Watchmen now in theatres, the movie-going public can enjoy the work of young lions like Vancouver's MPC and Image Engine.
When people's arms need to be lopped off with a power saw, who you gonna turn to?
12 March 2009, nmancer @ 10:27 am
According to a Wall Street Journal report, DreamWorks SKG, a sister concern of DreamWorks Animation SKG, Inc. (DWA: News), and financing partner J.P. Morgan Chase & Co. (JPM) has raised about half of the $325 million in debt financing so far. The report added that DreamWorks and J.P. Morgan are on track to raise the remainder within a month or two.
The Glendale, California-based DreamWorks SKG, the privately held movie studio controlled by Steven Spielberg, is struggling to raise debt in order to keep his studio floating by making at least six films a year.
12 March 2009, nmancer @ 10:20 am
Paving the way for the production and release of its multi-character superhero film, The Avengers, Marvel Entertainment, Inc. announced today an adjusted release pipeline for its self-produced feature film properties that reflects the first time individual Super Hero characters and story arcs will be inter-woven and culminate in a multi-character motion picture.
Marvel Studios Feature Film Pipeline:
Iron Man 2 – May 7, 2010 – May 7, 2010
Thor – July 16, 2010 -> June 17, 2011
The First Avenger: Captain America – May 6, 2011 -> July 22, 2011
The Avengers – July 15, 2011 -> May 4, 2012
12 March 2009, nmancer @ 10:16 am


Attention genre film/tv enthusiast everywhere.  The Academy of Science Fiction, Fantasy & Horror Films has announced the nominations for its 35th Annual Saturn Awards just yesterday. I think its safe to say the genre film that became the biggest talk of the town during the past year is The Dark Knight and unsurprisingly so, it dominates with 11 nominations including Best Action/Adventure/Thriller Film, Best Director and Best Writing.  A horror film we been praising around these parts is Let the Right One In and its nominated for Best International Film but surprisingly, its not in the running for Best Horror film itself, yet the likes of The Happening and The Mummy: Tomb of the Dragon Emperor trumps it.  Go figure.  In the "huh!?" category, Wanted receive a nod for Best Fantasy film.  Call me crazy but I thought it was an action film.  The special award recipients which acknowledge those with immense contribution in genre filmmaking will be announced at a later date.
12 March 2009, nmancer @ 10:15 am


Charles Schram, whose iconic Cowardly Lion make-up for The Wizard of Oz charmed generations of film fans, died Nov. 14 2008 in Los Angeles. He was 97.
Born in Los Angeles in 1911, Schram enrolled in art classes at the University of Southern California with William Tuttle. According to Al Taylor and Sue Roy's book Making a Monster, MGM Make-up Department Head Jack Dawn recruited Schram and Tuttle in 1935 as apprentices after he asked a college dean to recommend a couple of sculpture and painting students who could learn the art of make-up for the 1937 film The Good Earth. The pair went on to collaborate on several films, including The Seven Faces of Dr. Lao, Ben Hur and The Time Machine.
12 March 2009, nmancer @ 10:14 am
MONSTERS? Aliens? 3-D glasses? There's something decidedly retro about Monsters vs Aliens, the latest animated film from DreamWorks.
Susan (voiced by Reese Witherspoon) is struck by a meteor on her wedding day, turning her into a 15m woman.
She is locked in a secret military facility with other monsters just as aliens attack, leaving these feared outcasts to save humanity.
Director Conrad Vernon was completely sold on the 1950s, B-movie scenario.
"That was why I wanted to do this movie," says Vernon, whose previous work includes Shrek 2. "I think it's the right material for satire in an animated film. It instantly put a thousand ideas in my head."
« Previous Articles