22 December 2008, nmancer @ 12:29 pm
http://www.apple.com/finalcutstudio/action/button/?sr=hotnews?sr=hotnews.rss
Among the unusual circumstances surrounding the making of the film is that film figured so little in it. Although nearly every major Hollywood movie of this size and budget is still made on film, "Button," except for some high-speed and underwater sequences, was shot digitally on high-definition Thomson Viper cameras directly to hard drive, without ever touching tape, then captured into Final Cut Pro for editing.
Fincher on Desktop Filmmaking
"The future of movies is headed towards a desktop publishing model. That's what it's going to be. Nobody understands that from a graphic standpoint and even from an audio standpoint, like Apple does. They just seem to understand what you need to do is put tools like Final Cut Studio in people's hands, let them respond to you, and listen."
22 December 2008, nmancer @ 12:21 pm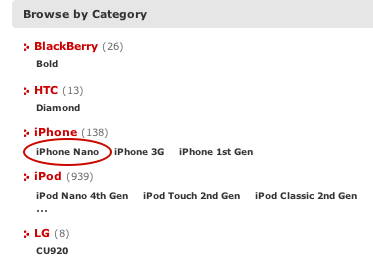 iPhone case manufacturer XSKN has labeled a section on their site for the "iPhone Nano". This description suggests that long running rumors of a miniaturized iPhone could be true.
XSKN gained some notoriety earlier this year when it began selling cases for the then-unreleased iPhone 3G. The company again received headlines in September with case images of unreleased 4th Generation iPod Nano designs. Both times, some readers had questioned if these were simply publicity stunts, though both sets of images later turned out to be accurate.