23 December 2008, nmancer @ 4:52 pm
22 December 2008, nmancer @ 12:29 pm
http://www.apple.com/finalcutstudio/action/button/?sr=hotnews?sr=hotnews.rss
Among the unusual circumstances surrounding the making of the film is that film figured so little in it. Although nearly every major Hollywood movie of this size and budget is still made on film, "Button," except for some high-speed and underwater sequences, was shot digitally on high-definition Thomson Viper cameras directly to hard drive, without ever touching tape, then captured into Final Cut Pro for editing.
Fincher on Desktop Filmmaking
"The future of movies is headed towards a desktop publishing model. That's what it's going to be. Nobody understands that from a graphic standpoint and even from an audio standpoint, like Apple does. They just seem to understand what you need to do is put tools like Final Cut Studio in people's hands, let them respond to you, and listen."
22 December 2008, nmancer @ 12:21 pm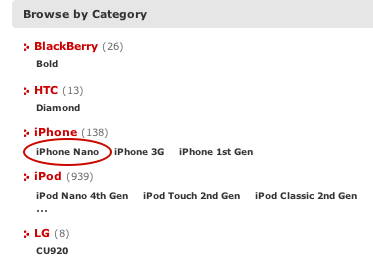 iPhone case manufacturer XSKN has labeled a section on their site for the "iPhone Nano". This description suggests that long running rumors of a miniaturized iPhone could be true.
XSKN gained some notoriety earlier this year when it began selling cases for the then-unreleased iPhone 3G. The company again received headlines in September with case images of unreleased 4th Generation iPod Nano designs. Both times, some readers had questioned if these were simply publicity stunts, though both sets of images later turned out to be accurate.
20 December 2008, tommyb123 @ 8:45 am
My friend & "pair programming" partner from High School Steve Riley just dug up, played and posted the game we wrote together in 1989.  "TomeQuest" was an ascii art re-imagining of the original Atari "Adventure" game written in Turbo Pascal using tools we wrote ourselves to produce the art (he wasn't able to get our sprite & image editor "TheDraw" going again, but suffice it to say it was the most bad-ass ascii art editor you have ever seen
http://www.facebook.com/home.php?#/video/video.php?v=53537878512
Be sure to back up & pause to read the story at the end!
19 December 2008, nmancer @ 12:15 pm
Alan Rickman told Movies Online that Tim Burton's adaptation of "Alice in Wonderland" will be unlike any film you've seen before – a hybrid that fuses live-action footage, performance-capture computer animation ("Polar Express") and stop-motion animation ("Corpse Bride").
"The movie is a mixture of live action, animation, and stop motion, so it's very complicated and I don't think all three have been put together ever before. So I'll be with a live action Alice. I will be a construct."
19 December 2008, nmancer @ 12:12 pm
Hailed as a historic decision, the French parliament has greenlit 20% tax rebates for U.S. and other foreign shoots in France.
Applied to overseas shoots' expenditures in Gaul, the rebates will be capped at e4 million ($5.7 million) per film. They will cover labor costs, accommodation, transport and the use of local animation and VFX houses.
Movies, miniseries, series and TV movies will be eligible for the rebates.
Documentaries will also be eligible but as the rulings require spending a minimum of $1.4 million in France, not many will qualify.
19 December 2008, nmancer @ 11:27 am
(Source: Variety) The studio and Universal Pictures have a deal to distribute five to six movies for an 8% distribution fee a year. But that deal is now in jeopardy.
India's Reliance Big Entertainment was putting up $500 million in equity for DreamWorks against an expected $750 million in loans with the ultimate aim of funding a slate of 36 movies over a period of seven years. However, DreamWorks reps are still struggling to acquire the bank portion of the leveraged deal.
Despite the blue-ribbon nature of the DreamWorks enterprise, banks in general are slamming the door on this sort of funding — or any funding at all.
19 December 2008, nmancer @ 11:18 am
Frank Miller and Odd Lot Entertainment, the creator and production company behind upcoming The Spirit are close to teaming again on the classic sci-fi property Buck Rogers.
Odd Lot is in negotiations to option the rights to "Rogers" from Nu Image/Millennium, which obtained those rights this year from the Dille Trust. Millennium is expected to get a credit on the movie but won't be involved in day-to-day production.
Miller will write and direct his own big-screen take on the comic serial; while the creator has only begun to sketch ideas, it's expected to be a darker take, with many of Miller's signature visual elements and themes, such as corruption and redemption.
19 December 2008, nmancer @ 11:14 am
It was announced that the new film, which is based on JRR Tolkien's novel, would be directed by Guillermo Del Toro. Oscar winner Peter Jackson is producing the project, and is also penning the screenplay with Del Toro, reports Contactmusic. Sir Ian McKellen will be reprising his role of Gandalf , and Andy Serkis is expected to play Gollum once again.
The Shooting of 'The Hobbit', which was planned to begin in New Zealand this winter, has been postponed until 2010 – with the release day pushed back to 2012. However the cause for the delay is unknown.
19 December 2008, nmancer @ 11:07 am
No matter how many hours you've whiled away in tearooms and chashitsu, you've never seen a teapot like this. At rest, it looks like a modernist sculpture of a dachshund. Come tea time, you flip it on its rear (Sit, boy!), unhinge the spout, and drop in loose tea leaves. Add hot water — up to 11 ounces, enough for two cups — then kick back and watch the leaves dance as they turn your brew the exact depth of color you desire. Crafted from Pyrex glass and stainless steel, the Sorapot will likely outlive its owner — which is good, because it's designed to age gracefully, with each pot developing a unique patina. You'll be able to pass it on to the grandkids as a suitably old-looking heirloom. A model with a brushed finish is $200 ($50 less than the mirrored finish model).
* Type: Kitchen gadgets
* Manufacturer: Sorapot
* Price: $250 (mirrored finish)
« Previous Articles