18 July 2008, nmancer @ 2:58 pm
(Source: Wired) It wasn't very long ago that we were all wondering why anyone would want a camera on one's cell phone. Since the release of the iPhone, however, many of us have found ourselves using it in place of the several other digital cameras we own. Unlike a "real" camera, the iPhone can immediately post to photos to Flickr or send photos as attachments via e-mail. The pictures it takes are reasonably clean and clear, and the colors seem OK.
The thing is, the iPhone camera has a bug.
No one is ever happy to find that the fancy high-tech gadget that they just bought has a bug. At the same time, every software or hardware engineer can likely tell a good story about that undetected "bug" being spun into a marvelous new undocumented "feature." Similarly, any artist can tell you a story about a "happy accident" that delivered them on an unexpected path to enlightenment.
18 July 2008, nmancer @ 1:10 pm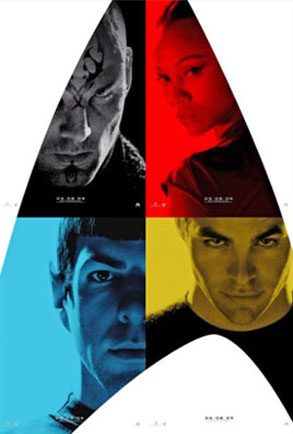 The new Star Trek movie isn't due out until next May, but director J.J. Abrams recently dropped a few scoopy tidbits to E! News. And fans attending Comic-Con in San Diego next week can get their hands on four new posters (all put together above), with slick pics of Eric Bana, Zoe Saldana, Zachary Quinto and Chris Pine.
When we caught Abrams at the Television Critics Association tour this week, he talked about his franchise reboot and the early days of Spock, Kirk, Uhura and the Enterprise. Here's the deal:
18 July 2008, nmancer @ 10:35 am
Signs are starting to appear that Apple may be prepping for a revision of their Mac laptops in the near future. Following up a previous Commercial Times report that pointed to a Q3 (July-September) order for MacBook displays, the paper now reports that Apple has increased its order of "notebook-use printed circuit boards" by 20% this quarter.
Meanwhile, Apple has notified Best Buy that they would have limited MacBook shipments over the next two weeks. While retail inventories alone aren't typically an accurate predictor of Apple product refreshes, combined with these other reports it may be more suggestive.
18 July 2008, nmancer @ 10:33 am
After teasing us about it back in May it looks like AT&T has finally come through. They have announced that they "are proud to offer iPhone customers free access to the nation's largest Wi-Fi hotspot network with more than 17,000 hotspots, including Starbucks". Unfortunately, the details are a little sketchy; it's unclear exactly what you have to do to access the network with your iPhone.
In any case, you can look up an AT&T hotspot near you or search for a Starbucks.