28 May 2008, nmancer @ 2:00 pm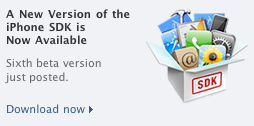 Besides releasing Mac OS X 10.5.3 today, Apple also released a new version of the iPhone SDK (Beta 6). No details have been posted. Apple should be wrapping up development of the iPhone SDK which is expected to be complete by late June. Apple will be covering many aspects of the iPhone SDK during their Worldwide Development Conference which starts on June 9th.
Previous versions of the iPhone SDK and Beta 2.0 Firmware have revealed new features coming to the iPhone, including Geotagging, 3G preferences, Chinese handwriting recognition, and Photo saving,
28 May 2008, nmancer @ 1:57 pm
If you have an iPhone synced with Address Book.app, then you've been able to sync your contacts with Yahoo for a while now, but something that has been missing is Google sync. Sure, you can always use Spanning Sync, but we all want something free and built-into the OS. Well, those dreams are now true according to a new Google blog post and the introduction of Mac OS X 10.5.3.
28 May 2008, nmancer @ 1:56 pm
Apple has just released the next point release of Mac OS X Leopard, version 10.5.3. This release has been speculated for a while now, and includes some hefty updates in the 420 MB package. Software Update gives us the following information about the update:
The 10.5.3 Update is recommended for all users running Mac OS X Leopard and includes general operating system fixes that enhance the stability, compatibility and security of your Mac.
Apple posted detailed information about the update on their website. You can download 10.5.3 by opening up Software Update (Apple menu > Software Update …).
28 May 2008, nmancer @ 1:49 pm
Zack Snyder is in post production on his big screen adaptation of Watchmen, and is currently sitting on a three-hour superhero movie.
"The main picture is nearing three hours long and I know I have a fight on my hands just with that," Snyder told the New York Times.
And the eventual Ultimate Edition DVD version of the movie (think Peter Jackson's Lord of the Rings extended editions on crack) will no doubt be over four and a half plus hours in length. More on that in a bit. Since a big screen adaptation of Watchmen was first announced, many fans of the original Alan Moore comic book mini-series wondered how Tales of the Black Freighter, the story-within-the-story, would be handled, if at all.
28 May 2008, nmancer @ 1:47 pm
After a $175-million donation from celebrated filmmaker George Lucas and a ceremonious groundbreaking last fall, the Cinematic Arts Complex, the latest architectural addition to the USC School of Cinematic Arts, is beginning to take shape.
Construction is on schedule and faculty can expect to move in by the end of the calendar year, said Brian League, program director of Capital Construction Development.
The 137,000 square-foot structure that began the academic year as a structural skeleton, is coming together quickly and nearing completion, said Doug Wellman, facilities and operations manager for the School of Cinematic Arts.
28 May 2008, nmancer @ 1:45 pm
The most expensive piece of Star Trek memorabilia ever sold was the Enterprise D filming miniature built for the Star Trek: The Next Generation television series. As lot 712 in the Christies 40th Anniversary Star Trek auction with a pre-sale estimate of $25,000 – $35,000; the 78″ x 59″ x 14″ model created by Industrial Light and Magic realized a final sales price of $576,000 including buyers premium.
Take a look:  StarTrekPropAuthority
28 May 2008, nmancer @ 1:43 pm
Variety reports that Marvel Entertainment will work alongside Method Animation and Cinnamon Entertainment for a CGI Iron Man cartoon.
The article states that a few episodes will be pulled together for a DVD release just prior to the series' broadcast premiere. The tone will follow directly from the upcoming Paramount film (which, interestingly enough, Variety reports as starring Robert Downey Jr. and Samuel L. Jackson).
26 half-hour episodes have been ordered and — if past Marvel film to animation tie-ins are  any indication — that might very well be all we'll see. MTV's CGI Spider-Man only had 13 episodes while Fantastic Four: World's Greatest Heroes had a 26 episode order and only aired seven.
28 May 2008, nmancer @ 1:40 pm
Indiana Jones' return to the big screen after 19 years underscores how much visual effects have evolved.
When the first three Indy films were made in the 1980s, the visual effects were done optically, i.e. photographically or in post-production.
"Indiana Jones and the Kingdom of the Crystal Skull," which topped the North American box office this past weekend, marks the first time sophisticated digital techniques were used in bringing the story of the archaeologist-adventurer to life.
"There were many challenges," said visual effects supervisor Pablo Helman, a veteran of "Indiana Jones" creator George Lucas' effects house Industrial Light + Magic (ILM).
27 May 2008, nmancer @ 2:44 pm
Unlike any other genre of videogame, the success or failure of an MMO relies almost completely on whether other people like it; what good is an mind-destroyingly rad multiplayer world if you're there all by yourself? That's why the news that Age of Conan has sold 400,000 copies is pretty important.
The game's maker says that over 400k people have ventured into the game already, making it the top-selling PC game ever. From the company's press release:
27 May 2008, nmancer @ 2:42 pm
Allen Reiss, a Stanford professor, has published a paper in the Journal of Psychiatric Research on males and gaming. Basically, it states that certain parts of the brain are more active in males than females while playing games; the mesocorticolimbic centre to be exact. This is the part of the brain typically associated with reward and addiction.
It's not a matter of comprehension as females understand the rules and how to win. They just don't care as much about gaining territory and conquering challenges as their male counterparts.
« Previous Articles