23 April 2008, nmancer @ 3:47 pm
Microsoft just announced that it will no longer supply authorization keys for songs purchased from the defunct MSN Music service.
So all yooz PlaysForSure users that purchased music through them, those tunes will only play on your registered computers (up to 5)…forever! This maneuver also locks the registered PC into whatever OS it's running, so any major OS update or switch would zap all your music into oblivion.
"If you attempt to transfer your songs to additional computers after August 31, 2008, those songs will not successfully play," said Microsoft in a press release.
23 April 2008, nmancer @ 3:46 pm
In an interview with Rolling Stone, Lars Ulrich — drummer of heavy metal overlords Metallica — called video games "f*cking way cool."
Yes, while professing his love for games, Ulrich said that the gaming offers "many positive things" to young people, and that that Guitar Hero in particular has allowed him to connect with his own kids over music.
"Our kids love playing Guitar Hero and Rock Band," he admitted. "It's awesome. There's something really positive coming out of videogames. It's so cool to sit there and have your kids talk to you about Deep Purple and Black Sabbath and Soundgarden."
23 April 2008, nmancer @ 3:45 pm
We've been waiting for Harmonix to deliver the promised Xbox 360 wireless Rock Band guitar controller for a while now, and it looks the company is stealthily getting them out there. Pre-orders have been trickling out for about a week. Oddly, the Best Buy in-store price is $79.99 while the BestBuy.com price is $59.99, so if you're looking to cut the cord, you might want to save some cash and order online. Oh, and remember — this bad boy doesn't work with Guitar Hero, so don't say we didn't warn you.
23 April 2008, nmancer @ 12:23 pm
How would you like to play Monopoly on your gaming system? Well, if your answer was "hell yes!," then you're in luck. It's coming for the XBox 360, Wii, and PS2, but not the PS3. So, if you got all excited and you only own a PS3, you can start hanging your head in shame for buying a lame console just because its a cheap BluRay player (you know who you are). At any rate, Monopoly's coming this Fall.
23 April 2008, nmancer @ 11:25 am
Comedy Central's Indecision 2008 blog (humor about the upcoming US elections) has a… well, OK, it's not all that funny, but it's a post offering the three major candidates (Obama, Clinton, and McCain) tips in their strategies to appeal to World of Warcraft players.
23 April 2008, nmancer @ 11:10 am
Digital animators and visual effects artists at Sony Pictures Imageworks created this unofficial short that shows two artists concerned about how Sony's new outpost in Chennai, Imageworks India, may affect their lives in Culver City. It's meant to be a funny gag film, but the underlying message represents a very real fear that surely many animation and vfx artists in the US have right now.
This short film was the prize winner in an "under $100 film" contest held at Sony Pictures Imageworks.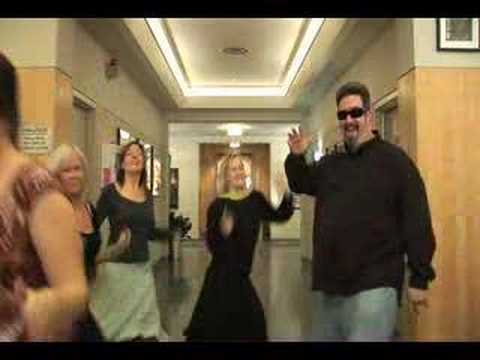 23 April 2008, nmancer @ 11:07 am
Craigslist is firing back at its rival and minority owner eBay, scolding the online auctioneer's actions as unethical and smelling of a hostile takeover.
In a move that pits two of the Internet's most popular sites against each other, EBay Inc. sued the online classifieds company Tuesday, alleging it unfairly tried to dilute eBay's stake in it.
EBay purchased a 28 percent stake in privately held Craigslist in 2004.
But in January, eBay says, Craigslist's board, consisting of founder Craig Newmark and Chief Executive Jim Buckmaster, unilaterally acted to dilute eBay's economic interest in Craigslist by more than 10 percent.
23 April 2008, nmancer @ 11:04 am
Here's how it will work: If you have a Mac laptop with an accelerometer, you're pretty much good to go (you can sign up for news when apps for Windows machines and USB externals will be available; no mention when and if the Wii will be supported). Just download and install the distributed computing software (BOINC), enter up to five of your favorite laptopping locations, and bam, your computer is now a seismometer.
With scientists now saying there's a 99 percent chance "the big one" will finally hit California sometime during the next 30 years, seismologists are scrambling to come up with new ways to detect and analyze quakes as soon as they happen.
23 April 2008, nmancer @ 11:01 am
As you may have noticed, Xbox Live has been a little wonky as of late and, according to Microsoft's latest status update, it looks like it could stay that way for at least a little while longer. While the service itself is apparently "up and running," it seems that anyone matchmaking or using client voice communication may "experience difficulties," which is just a little bit more than a minor issue. No word on a full return to form just yet, but it seems that the folks in Redmond are on the case.
23 April 2008, nmancer @ 10:39 am
« Previous Articles