14 April 2008, nmancer @ 5:26 pm
Indiana Jones is featured in the next issue of MAD Magazine (issue #490). The good guys at MAD have sent over a couple scans from the issue including "The Top Secret 'Indiana Jones' Memo' from George Lucas to Steven Spielberg". Funny stuff. I haven't read MAD (or Cracked) in years, but I have to admit, I've always loved the illustrations. Especially the details like Spielberg eating the mashed potato sculpture from Close Encounters, or the Hook from Hook on top of one of the Oscars he just has lying around.
Check out the memo from George Lucas, it's worth a read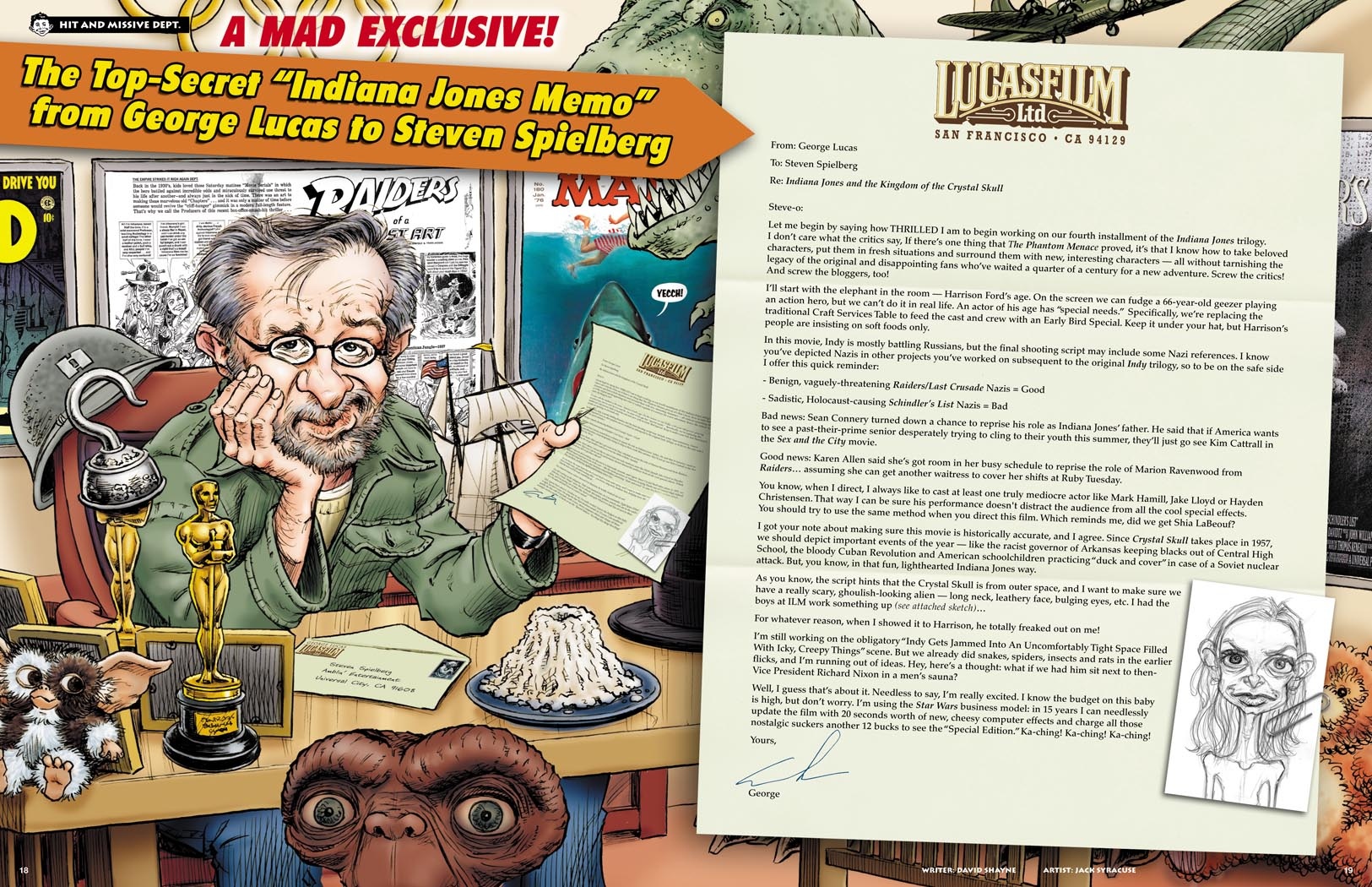 14 April 2008, nmancer @ 5:21 pm
(Source: Variety.com)              Director James Cameron's upcoming "Avatar" must rank as one of the most anticipated film projects in recent memory. His first narrative film since making the No. 1 box office hit of all time, 1997's "Titanic," "Avatar" will be the realization of Cameron's long-held dream of melding digital 3-D stereo with epic bigscreen storytelling. Variety's David S. Cohen conducted this email interview with Cameron; it is the director's most extensive exploration of 3-D to date, however he is keeping specifics about "Avatar" under wraps.
14 April 2008, nmancer @ 5:19 pm
Vancouver's visual effects industry is maturing, with big movies now coming here for scenes that used to be created in Los Angeles.
Two Vancouver visual effects (VFX) studios are involved in a pair of movies expected to be among this summer's blockbusters. The Embassy, a small 20-employee studio known for its television commercials, has produced 60 shots for Iron Man, which opens May 2. Image Engine, a 60-employee studio which established itself in the genre by working on Fantastic Four: Rise of the Silver Surfer, X2 and I, Robot, is completing 70 shots for The Incredible Hulk, due out June 13.
14 April 2008, nmancer @ 3:56 pm
14 April 2008, nmancer @ 10:35 am
An IBM research breakthrough could let storage devices hold hundreds of times more information than they handle today with technology IBM calls "racetrack memory," which stores data as a magnetic pattern on a nanowire 1,000 times finer than a human hair.
Here's how it works: spin polarized electrical currents cause the magnetic pattern to race along a wire track, from which data can be read or written — in either direction – in less than a nanosecond.
14 April 2008, nmancer @ 10:32 am
Movie director Steven Spielberg is a serious games fan with an in-depth knowledge of the industry, claims senior producer of Bloom Blox Amir Rahimi.
Speaking at a Nintendo media event in San Francisco, Rahimi said: "I was actually pretty surprised to find out how much of a gamer Steven Spielberg is. He – regularly, when we meet with him – makes references to games that a lot of us game developers haven't played or haven't played in years. But also recent games, like Crysis, he talks a lot about."
14 April 2008, nmancer @ 10:29 am
(Source: internetvideomag.com)          If you are thinking of getting into film special effects or are just curious about how it is done, "Steve Wright's "Compositing Visual Effects – Essentials for the Aspiring Artist" is a great book for someone just starting out in this space.
It's well illustrated with hundreds of film shots, figures, illustrations and diagrams to help the visual reader gain a valuable vocabulary and understanding of the full range of visual effects, in which digital compositing plays a key role.
It covers CGI, set extension, blue-screen and green-screen, motion tracking, rotoscoping, image blending, creating masks, etc – all the essentials and basis of modern day film and video special effects.
14 April 2008, nmancer @ 10:27 am
Last August it was revealed that Rose McGowan was set to star in Robert Rodriguez's Barbarella remake at Universal Pictures. But then rumors began over budget issues and that the studio didn't want McGowan in the role.
Wrong, she tells MTV. "[The news that I was out] was really irritating because I know all the people over there and obviously it wasn't true. It was very malicious and there was no proof. Oftentimes these things have basis in truth but this didn't. I have contracts to prove it."