27 April 2008, junktape @ 7:02 pm
Ah, Mac. I'm still only just getting to know you.At first glance everything is so wonderfully intuitive. Then the problems happen.Got an issue with mac "backup." At first glance, this program was my dream come true. It promised that I could schedule the backup of a specified folder on a specified drive to a destination of my choice. The best part — each time I wanted to run the backup, it would be intelligent enough to deduce what new files had been added to the source folder since the previous backup — and copy ONLY those new files to the archive.When you have a 500gig source drive as I do, this is a godsend. No longer would I have to back up each little file myself. At long last the program would be able to do it for me. (Easy example being itunes. I keep my itunes library on an external drive. Every so often I consolidate itunes from my main system, adding new files to the drive every few weeks. Every few months, I want to backup my itunes library – instead of backing up the ENTIRE damn drive every single time, I was hoping backup would be smart enough to know what files are new to the source drive since the previous backup was made, and copy only those new files to the archive.)And yet, it seems that backup insists on making a FULL archive of my source drive every single time I attempt a backup. It refers to these secondary files as "incremental backups" but they are identical to the "full backups" in every way. Once more, the compressed files seem to take up more space than the uncompressed files.And then I installed Leopard. Perhaps the installation confused backup. Perhaps I'm supposed to now use "Time Machine." Sadly this requires me to reformat my backup drive. Kinda defeats the purpose when you already have one, but I suppose I can understand this. Sigh. I just want to backup my new files. Anyone have a solid method they use or any recommendations?
25 April 2008, nmancer @ 2:34 pm
Will Wright is a gaming god, we know this. You all know about his megalomaniacal evolution-sim Spore that's set to come out in September. Well today it was announced that on June 17th you'll have two sneak peaks into the world that Spore will build.
25 April 2008, nmancer @ 2:32 pm
Next week's Rock Band DLC features two Mother Hips tracks and a Smashing Pumpkins jam.
Mother Hips "Red Tandy"
Mother Hips "Time Sick Son of a Grizzly"
Smashing Pumpkins "Zero"
The tracks hit April 29th for the Xbox 360, and May 1st for the PLAYSTATION 3.
Price: $1.99 per track
25 April 2008, nmancer @ 2:25 pm
25 April 2008, nmancer @ 9:53 am
You've probably already heard that actor Wesley Snipes got sentenced to three years today by the Federal government for tax evasion, right?
But what you might not have heard, at least according to perezhilton.com, is that right before the judge handed down the sentence, Snipes cut the Feds a check for the 5 of the 15 million he owed right there in court! And they still gave him the maximum sentence of five years!
Too little, too late, I guess….
25 April 2008, nmancer @ 9:49 am
The site Steam Punk Workshop has instructions on how to make your very own.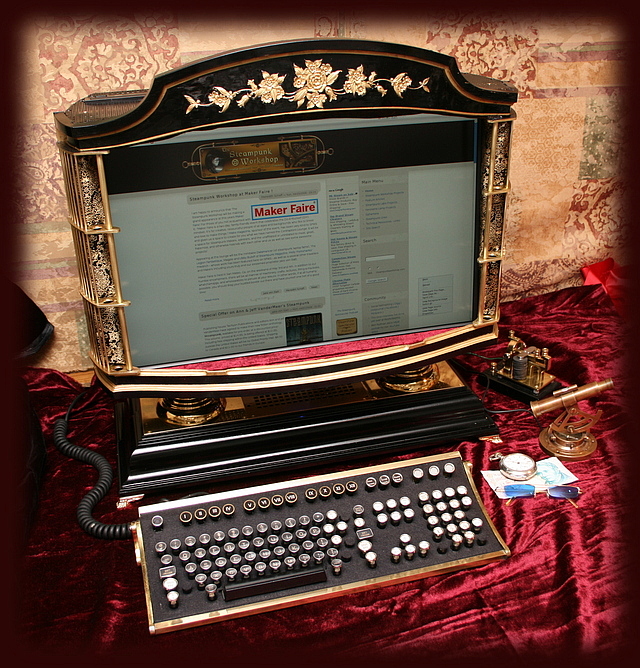 25 April 2008, nmancer @ 9:44 am
Okay, so ya mighta heard that EMI is suing MP3tunes.
But I bet ya didn't know why?
Turns that the music label believes that consumers aren't allowed to store their music files online, and feels that MP3tunes is violating copyright law by providing a backup service.
Yes, despite the courts telling EMI last March it couldn't demand that MP3tunes turn over all the music stored by customers on its servers, it is suing 'em anyways.
So today MP3tunes' CEO Michael Robertson sent out an email to all users of his online music backup and place-shifting service asking them to help publicize EMI's lawsuit.
25 April 2008, nmancer @ 9:42 am
(Source: TUAW) Aaron Besson of MyTriniPhone posted this morning about a new iPhone video recorder. Unlike previous entries into this realm, this updated version from DreamCatcher records both sound and video.I download a copy and gave it a try. The interface is a little on the prototype side but it recorded without a hitch. I was able to copy the resulting mp4 video onto my Mac and play it back. It was grainy (as expected, given the low quality of the iPhone camera) but the audio was clear. Playback on the iPhone itself simply did not work for me.
Apparently this code is based on ffmpeg and there's a lively little discussion about this over at the Hackint0sh forums, if you care to check that out. You must pay to register if you'd like to record more than 30 seconds at a time or if you simply like the program and want to support the developer. Deets are in the program. Just tap Settings > About > Buynow.
25 April 2008, nmancer @ 9:38 am
Digital Domain Inc., the Hollywood special-effects studio that had planned its initial public stock offering for this week, looks like it's having trouble closing the deal — at least at the price it wants.
The firm's underwriter, San Francisco investment bank Thomas Weisel Partners, says this morning that pricing of the deal is "day to day." That usually means the underwriter still is trying to drum up enough investor interest to get the offering done.
25 April 2008, nmancer @ 9:36 am
A proposed expansion of the DreamWorks Animation campus on Flower Street in Glendale sailed through the Redevelopment Agency, paving the way for the studio to fulfill the majority of its remaining square footage allowed in a 1996 development agreement.
The 128,718-square-foot plan would add to the 331,783 square feet of existing area at 1000 Flower St. and extend the multilevel parking garage to provide an additional 265 spaces.
An ordinance that would amend the original agreement to let DreamWorks take advantage of a 2004 zoning change and construct a higher-than-previously-allowed building was introduced as part of an approved package of environmental and design items and won't take effect until next week, when the City Council is expected to officially adopt the amendment.
« Previous Articles