20 March 2008, nmancer @ 3:48 pm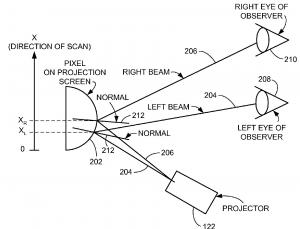 A new
patent application
from Apple details how to implement a 3-dimensional stereoscopic display. While 3d images have been around for years, Apple points out that computational power has advanced to the point where these true 3d images can be rendered and animated in realtime. Apple specifically explores the implementation of "autostereoscopic" systems that don't require the viewer to be wearing special glasses or goggles.Apple believes its system addresses issues found in previous implementations of 3d and involves tracking the observer to ensure proper rendering of the 3d image regardless of where their exact position. Their system involves real time modulation of left/right sub images to be projected to the observer's left/right eyes individually. Apple also claims it can accommodate multiple observers to provide "a unique and personal 3D visual experience to each individual observer, with each visual experience (i.e., projected image) selectively being similar or different from the others, as desired."
20 March 2008, nmancer @ 3:15 pm
Good news for you PlayStation 3 owners/movie-lovers. Sony announced today that system software update v.2.20, for the PS3, planned for release in late March, will add Blu-ray DiscProfile 2.0 functionality to the machine. That means downloadable video content, ringtones, games, and other good things.
The system software update will also enable photo and music playlists on a PS3 to be copied to a PSP, as well as other new features. Click the cut for the official list of features and press release.
Interactive Movies Come to Life on PLAYSTATION®3 with System Software Update Version 2.20
20 March 2008, nmancer @ 2:57 pm
Multi-instrumental rock and/or roll simulator Rock Band is getting an update this week, and it's huge.
Rock Band Music Store: The PSN and Live Arcade interfaces don't really work for serving the amount of Rock Band content that's avaialbe, and with weekly updates to continue, a Rock Band-specific interface is needed. Improvments include the ability to organize songs any way you want–including by difficulty–album artwork, and, most importantly, the ability to preview songs before you buy 'em.
Faster Song Loading: Less waiting around while "loading additional content."
Pop Cap raised: Maximum number of fans for easier difficulties increased.
20 March 2008, nmancer @ 2:46 pm
"Would you like fries with that?"
20 March 2008, nmancer @ 2:23 pm
The videogame based on the upcoming Marvel film Iron Man has a voice cast, and it closely resembles the actual cast of the film, featuring Robert Downey, Jr, Terrance Howard, and Shaun Toub reprising their roles from the film. The game will be released on May 2nd, which is the same day the film comes out in theaters.
Iron Man is described as a third-person shooter with elements of both the film and the comic book series on which the film is based. It will be available across pretty much all platforms, unless you are sitting at home waiting for the SEGA Saturn version of the game, which will likely never come.
20 March 2008, nmancer @ 2:22 pm
The Florida Supreme Court is tired of being stalked by Jack Thompson. He's calling all the time, sending in inappropriate material, begging to be heard, etc.
Well, they've had enough and after warning Thompson on several occasions, they've finally had to sanction him. If he sends in any more filings with the Supreme Court of Florida, they're going to find him in contempt. At least then he'll be able to appear before the court.
20 March 2008, nmancer @ 1:42 pm
It was announced this week that music videogame juggernaut Rock Band has yielded over 6 million purchased downloads for the songs featured in the game since its launch on November 20, 2007.
According to Harmonix: "With an impressive weekly stream of downloadable content since launch and an unmatched offering of over 70 songs available for purchase to date, Rock Band has gone six times platinum featuring a diverse selection of artists ranging from classic rock to up and coming, emerging acts."
20 March 2008, nmancer @ 1:39 pm
Outraged Star Wars fans are lining up a protest against the Weinstein Company, which they say recut and ruined the film Fanboys.
Originally about a boy with cancer who treks to Skywalker Ranch, the edited version of Fanboys (which played to approving audiences at the 2007 Star Wars Celebrations in Los Angeles and London) allegedly sanitizes the terminal illness right out of the plot, thus giving the film a more mocking attitude toward the fans.
In protest, the Save Fanboys site urges Star Wars aficionados to picket The Superhero Movie, a spoof flick that Weinstein is releasing March 28.
20 March 2008, nmancer @ 12:57 pm
The cloud storage and sync offering from Sharpcast, SugarSync, has released a public beta of its OS X client today, complementing the existing Windows, web and mobile (WinMo + Blackberry, iPhone coming soon) clients. The Mac client and the Windows client appear pretty much the same, but once you set up your sync you don't have to look at the client UI very often.
20 March 2008, nmancer @ 12:52 pm
If you happen to be a photographer who likes to take digital photos using the RAW format, then Apple has just released an update you might want to take a look at and, perhaps, even apply. Appearing today in Software Update is what Apple calls the "Digital Camera RAW Compatibility Update 2.0."
According to the notes in Software Update, this new update "extends RAW file compatibility for Aperture 2 and iPhoto '08 for the following cameras:
Hasselblad CFV-16
Hasselblad H3D-31
Hasselblad H3D-31II
Leaf Aptus 54S
Leaf Aptus 65S
Nikon D60
Olympus E-3
Pentax *ist DL2
Pentax *ist DS2
Pentax K100D Super
Sony DSLR-A200
Sony DSLR-A350
« Previous Articles