5 March 2008, nmancer @ 9:26 pm
(Source: datelinehollywood.com)   Looking to expand its lineup of Lego-based videogames beyond those aimed at kids, LucasArts announced a series of new titles based on several of the year's most acclaimed films, including numerous Oscar winners. "Lego There Will Be Blood," "Lego No County for Old Men," "Lego Juno" and "Lego Four Months, Three Weeks and Two Days" will all come out later this year.
In addition, LucasArts announced it will be dipping into the Hollywood vaults to produce games with the adorable Lego aesthetic based on numerous classic films. They will include "Lego Fatal Attraction," "Lego Hotel Rwanda," "Lego Silence of the Lambs," and "Lego Annie Hall," which are in development for 2009 release.
5 March 2008, nmancer @ 9:24 pm
If you're in the U.K. and have always wanted to make a scifi movie in two days with a bunch of your pals, it's time to test your fast-movie fu. Scifi film geekfest Sci-Fi London is launching its "48 Hour Film Challenge" on April 5th at the Apollo West End. Entrants will be given a randomly-generated film title, some dialog and a prop. They have two days to turn those ingredients into a movie "no shorter than 3 minutes, and no longer than 5 minutes" by April 7th. Those conditions don't sound much worse than what B-movie directors of the 1950s and 60s dealt with.
5 March 2008, nmancer @ 9:22 pm
Apple has been unable to make good on its January 15 promise to have 1,000 movies available for rent at its iTunes Store by the end of February. According to MacWorld magazine, Apple is currently offering only 351 titles for rent on the site. In fact, the magazine said, if all of the films listed for either purchase or rent are added together, Apple has only 770 available for downloading. By contrast Netflix has 6,000 titles available.
5 March 2008, nmancer @ 9:19 pm
(Source: rjjpbeno.dustdiary.com) Disney lost the animation crown and handed it over to Pixar several years ago. Now that Emeryville has turned into the new Magic Kingdom, will anyone ever challenge them for the throne? The easy answer to that is yes. However, it could be quite a while before anyone is capable. DreamWorks Animation, although turning out promising animated films, isn't in a position to overtake Pixar.
5 March 2008, nmancer @ 9:12 pm
(Source:  hindustantimes.com)          To be a success in animation, you need to have an eye for motion; plenty of patience;  to harbor a passion for and understanding of the principles of film and animation;  be willing to redo work again and again; be prepared sitting in front of a computer all day; have good desk research skills, both at work and outside; and have an ability to observe minute details about the world and visualize new worlds.
Pluses:
* High salary prospects. You can earn more than a lakh after a few years.
* Fun, informal, trendy work environment.
* Allows creative people to fully exploit their creative side
5 March 2008, nmancer @ 9:07 pm
Pras Michel (of The Fugees) has secured the film and television rights to the comic series Dark Oz. The story centers on a much more violent and scary Land of Oz. A grown-up Dorothy Gale is back in town along with some of the familiar faces (Tinman, The Scarecrow), and even some less familiar characters from Frank L. Baum's fantasy.
5 March 2008, nmancer @ 9:05 pm
At least 75% of New Line's 600 employees will be cut in coming months while a bare-bones staff stays on (much like the post-Weinstein Miramax) reports Variety.   It's anticipated that the studio will vacate its offices in New York and West Hollywood, with the remainder of operations moved onto the Warner Bros. lot in Burbank.
5 March 2008, nmancer @ 9:04 pm
Over the last 18 months, Rushes Posproduction has been working closely with Dangerous Films to produce VFX for HUMAN BODY: PUSHING THE LIMITS, a four-episode series for Discovery U.S. that will air in HD this spring.
In all, 400 VFX shots totaling 80 minutes were created.
A graphic and in-depth exploration into the functioning and phenomena of the human body,
the series reveals the human body as it has never been seen before.
Real-life examples are used to illustrate its most diverse moments of strength, endurance and survival.
5 March 2008, nmancer @ 9:01 pm
All three "Indiana Jones" movies debut as individual Special Edition DVDs and in an all-new box set on May 13. Created with fans of all ages in mind, the bonus features provide never-before-seen explorations of the extraordinary visual effects that have made the movies indelible cinematic treasures.
The Indiana Jones and the Raiders of the Lost Ark  includes the following special features:
– The Melting Face–A recreation of the amazing physical effect of the villain's melting face in "Raiders of the Lost Ark," including Steven Spielberg and George Lucas commenting on the evolution of visual effects and CGI.
– Storyboard Sequence–The Well of Souls
– Effects/ILM
5 March 2008, nmancer @ 8:52 pm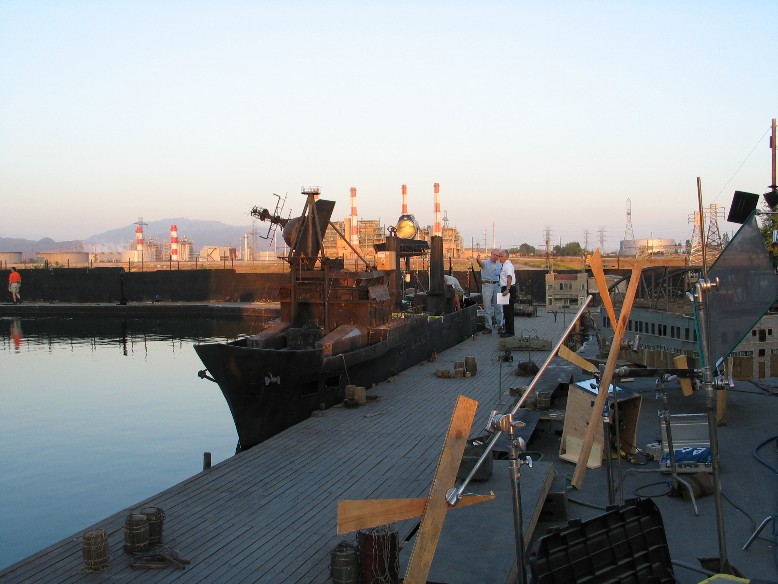 The use of miniatures in film making is not completely dead and gone. It is still possible to get better results, for less money, using old school techniques.
Have a look here:  hutchfx.com for some photos of the model ship used in Underworld 2. This was built and shot by Fantasy II Film Effects in Los Angeles.
« Previous Articles