16 January 2008, nmancer @ 10:42 pm
Macworld attendees saw 80s new-wave band Devo perform at San Francisco's famed Warfield theater last night. The occasion? Helping Microsoft celebrate the release of Office 2008 for the Mac.
16 January 2008, nmancer @ 10:39 pm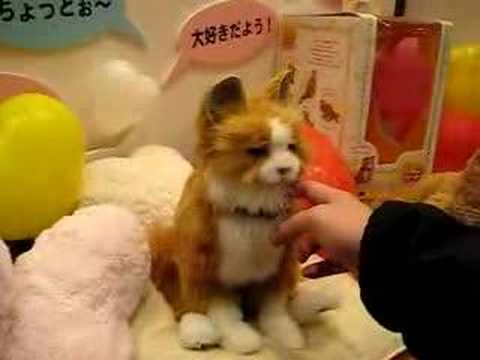 Finally your replicant Owl and Nexus-6 will have a new playmate over at the Bradbury — namely, Sega Toys' newest iteration of its infamously creepy automaton, the Yume Neko Smile cat. When we last saw this little purr-machine, it was giving blank stares of disapproval while harmfully invading our dreams like a kind of down-coated demon. The new version appears to up the gross-factor to 11 by including even more lifelike movements, all new speech (with moving mouth), and a healthy dose of allergy-irritating dander. Okay, we made that last one up, but with such attention to detail — including the common cat trait of perfect human speech — it wouldn't surprise us to see this one causing all kinds of health issues.
16 January 2008, nmancer @ 10:36 pm
Where the failed promise of Managed Copy on Blu-ray and HD DVD left us all hanging, Apple, iTunes, and Fox have oddly picked up the pieces. As paradoxically quietly announced at this week's Jobsnote, the new Family Guy Presents Blue Harvest DVD comes with an included movie file that one can pull off the disc onto their machine — but only by making use of an included code (and a copy of iTunes with a valid account, of course), which ensures the DRM is still there. What's unclear is whether the movie file is DRMed before being pulled off the disc, or is encrypted specific to one's account during the process of download from the disc. Ultimately these details won't change the fact that iTunes Digital Copy is a ripe target for people who wants to legitimately buy their media, yet doesn't think it should be friggin' rights managed. Crazy, we know.
16 January 2008, nmancer @ 10:33 pm

For those who didn't realize that Macworld actually does keep on spinnin' once Mr. Jobs darts back to Cupertino, here's a little more proof. Elgato Systems is using the remaining spotlight in San Francisco to showcase its latest iteration of EyeTV, and we must say, we're digging the additions. Aside from the completely new user interface tweaked to match Leopard, users of EyeTV 3 will also notice an "extended program guide featuring intelligent searching and recording functionality," enhanced network sharing, Smart Playlists, bolstered AppleScript support and an integrated video editor. If that rundown has you overcome with the itch to upgrade, you can do so for $39.95 (or free for users of EyeTV 2 who obtained their license after December 1, 2007), and if you're looking to start fresh, you can snag the software right now for $79.95.
16 January 2008, nmancer @ 10:30 pm
Stanford researchers believe they have made a breakthrough in battery technology, which they claim could increase battery life by 10.
Using anodes with silicon nanowires (awesome) instead of graphite-based anodes, they can create batteries that hold up to 10 times more of a charge than current commercially available batteries.
If this tech can be fully developed and commercialized, we could be looking at laptops that would last 40 hours on a full charge and cell phones that would survive for weeks.
There are, always, the issues of heat output, longevity, and size to think about.
16 January 2008, nmancer @ 10:29 pm
Did you ever eat a steak that was just perfect? Have you been chasing that steak for years? If only you could clone the cow that that steak came from… why, you'd have a shot at repeating perfection!
The FDA wants to help you out and to do so, they have declared that cloned animals are A-OK to eat. This includes milk, eggs, and other products originating in cloned animals.
We see a world where you find that perfect cow and eat the same delicious steak every day for the rest of your short, artery clogged life.
16 January 2008, nmancer @ 10:22 pm
It seems to be battery news day in the tech world. Panasonic has announced a new line of alkaline batteries that should last 1.3 to 2 times longer than the current ones.
The EVOLTAs should release on April 26th and will carry at 15% price increase over the standard AA batteries. Sounds like a perfect product for Wiimotes and 360 controllers.
16 January 2008, nmancer @ 10:21 pm
Nintendo released their 2008 game line-up, touching on the imminent of arrival of many, many important Wii and DS games, including:
Super Smash Bros: March 9
Mario Kart Wii with Wii Wheel: Spring
Wii Fit from : Q2
Star Wars: The Force Unleashed: Summer
The full list of 2008 releases is below:
16 January 2008, nmancer @ 10:17 pm
Attendees of this year's Sundance Film Festival will get the chance to be the next virtual Bon Jovi as MTV Games and Harmonix have teamed up with the annual celebration of cinema to bring the Rock Band experience to the masses.
Harry-O's Monkey Bar will offer forth a whole new Welcome to the Jungle as the main stage of the establishment is converted into a Rock Band party between 11 a.m. to 5 p.m. and 7 p.m. to 2 a.m. every day beginning January 17 and ending January 26 (sorry Semisonic fans, happy hour is Closing Time).
16 January 2008, nmancer @ 10:16 pm
The Writers Guild has a lot of time on its hands, what with everyone being on strike and all, but they're using those hours productively. Instead of just throwing playing cards into a top-hat like we would be doing, The WGA has nominated game-writers for its annual award, the 2008 Writers Guild Awards.
Here's the list of honored game-scribes:
Crash of the Titans – Writer Christopher Mitchell (Sierra Entertainment)
Dead Head Fred – Writers Dave Ellis and Adam Cogan (D3 Publisher)
The Simpsons Game – Lead Writer Matt Selman, Writers Tim Long and Matt Warburton, Dialogue Jeff Poliquin (EA)
« Previous Articles