7 January 2008, nmancer @ 11:32 pm
Pioneer's Kuro line of plasma televisions are highly regarded in the industry. They are expanding on this with two new concept televisions that they claim will revolutionize plasma HDTVs:
The first concept is the Extreme Contrast Model, which they claim has zero idling luminance (the natural occurence in a plasma display that decreases the quality of the blacks). These leads to a perfect black and a contrast ratio so high that they claim it is

immeasurable

.
7 January 2008, nmancer @ 11:28 pm
ABC Television Group and Metro-Goldwyn-Mayer Studios Inc. will be offering U.S. Xbox LIVE members entertainment content via the Xbox LIVE Marketplace Video Store, in high-def when available.
That means:
Lost
Grey's Anatomy
Dances with Wolves
Ugly Betty
Terminator
Desperate Housewives
Circus of the Stars *
Hannah Montana
ABC News Archival Footage
"Disney-ABC Television Group and MGM are two of the biggest names in the entertainment industry, and this announcement helps continue to evolve and diversify the content offering on Xbox LIVE," said Robbie Bach, president of the Entertainment and Devices Division at Microsoft. "The ability to offer such great content in high definition further expands Microsoft's commitment to connected entertainment with Xbox 360."
7 January 2008, nmancer @ 11:26 pm
Swedish tech company Tonium Laboratories announced the release of what they are calling the world's first professional pocket-sized DJ system, hilariously titled the Pacemaker.
Designed with "the aim of bringing people closer to their music and allowing them to creatively interact with their whole music collection," the Pacemaker allows one to create music mixes, gives you the ability to mix between tracks and to produce new sounds, allows two tracks to be played simultaneously, and boasts all the functionality of a full, professional DJ set up.
How does it do all this rad stuff? Why, via intelligent software, of course! (God, you're stupid!).
7 January 2008, nmancer @ 11:17 pm
All things must come to an end, and the format wars are no exception. On Friday, Warner Bros. announced it begin releasing it's movies on Blu Ray exclusively, rather than releasing films on both Blu Ray and HD DVD as they had done previously. This blow to the HD DVD market could signal the beginning of the end of the Blu Ray vs. HD DVD battle.
7 January 2008, nmancer @ 11:16 pm
At CES, Panasonic and Comcast unveiled their new DVR-on-the-go. It's called the Comcast AnyPlay Portable DVR and it allows you to take your media mass storage with you on the road. Now you can catch up on those episodes of Viva Laughlin while making those cross-country flights and back.
They say the machine can also serve as your standard HD DVR while at home, but my question is: What does your DVR-ing if you've got it with you while on the road?
7 January 2008, nmancer @ 11:07 pm
Via Hustlerofculture.com comes this AWESOME Guitar Hero controller mod… Aaron Skillman took a portable turntable scratch pad and made it into a GH controller… check it.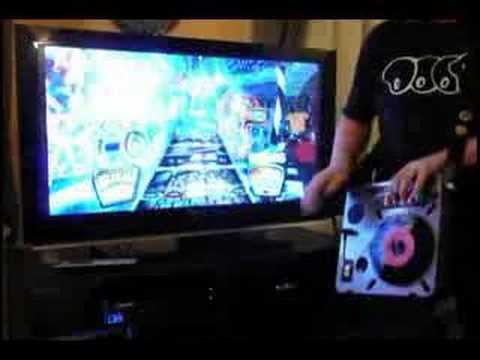 7 January 2008, nmancer @ 11:06 pm
The sales and landmarks:
Xbox Live Hits 10 million users — maybe this explains the lag?
17.7 million Xbox 360s shipped worldwide.
In terms of total business done (hardware/software), MS edges out Nintendo by $1 billlion and Sony by $2 billion.
Windows Live hits 420 (lol) million users.
Windows Mobile gained 10 million new users in 2007.
The announcements:
ABC and Disney will be bringing their TV shows (woot! Lost!) to Xbox Live Marketplace.
MGM will be bringing their movie library to Xbox Live Marketplace.
Samsung and HP will both develop Media Center Extenders. HP will release the first HDTV that functions as the extender.
7 January 2008, nmancer @ 11:02 pm
General Motors is going full force with its initiative to bring the dream of sci-fi nerds everywhere to life, not the one about making love to green women, the other one about cars that don't require drivers. It's been rumored that Rick Wagoner, the CEO of GM, will discuss the driverless car program on Tuesday, during the GM press conference.
Expect testing of the new autos to begin in 2015 for a 2018 release. Also, expect geeks with too much time on their hands to draw comparisons to such film classics as Christine, Herbie, The Love Bug and Transformers.
7 January 2008, nmancer @ 10:59 pm
Check it out: A grip of LEGO Batman screenshots have come out today!In standard Batman form, a bunch of crazies and classic villains have escaped Arkham Asylum, and its up to LEGO Batman and Robin to save Gotham. The whole LEGO thing is endearing; it's just a great way to reinvent and update old classics.
It's cute and it gives them a lot of leeway with graphics, but it only has to look as good as you would expect a LEGO videogame to look. Check out the gallery and judge for yourself.
7 January 2008, nmancer @ 10:58 pm
Over the last couple of years, when it comes to HD televisions, the talk seems to be all about plasma vs. LCD. The third option, DLP has seemingly fallen by the wayside. At CES this year, however, DLP stands to make quite the comeback, with the new 240Hz display mode DLP TVs.
The new products sport a 50% increase in motion reproduction and boast contrast ratios of up to 500,000:1. Word is that Mitsubishi is also preparing to unveil a laser HDTV, working on the same premise as DLP technology.
« Previous Articles