6 January 2008, nmancer @ 11:52 pm
The Library of Congress can feel the power of love. On Thursday, the government body added 25 movies to its National Film Registry — most notably Robert Zemeckis' 22-year-old time-travel comedy Back to the Future. Other popular selections that the Library found to be "culturally, historically, or aesthetically significant" were the 1968 Steve McQueen police thriller Bullitt, Steven Spielberg's 1977 sci-fi saga Close Encounters of the Third Kind, Terrence Malick's lush 1978 period epic Days of Heaven, and Kevin Costner's Oscar-winning 1990 Western Dances With Wolves ???????
6 January 2008, nmancer @ 11:46 pm
Still left wanting more after checking out Sony's 82-inch 4K display? How's about a 27-inch OLED that's about as thick as two credit cards stacked together? 'Course, Sony's already offering up an 11-inch version for those with cash to burn, but this one's not nearly as ready to sneak into your home. Still, you know you can't resist taking a peek, so jump on through and start dreaming, alright?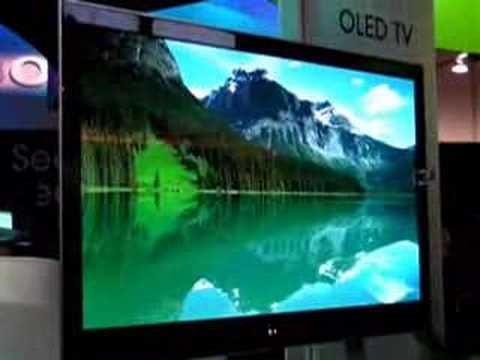 6 January 2008, nmancer @ 11:33 pm
USA Today polled five industry analysis for their 12th Annual Media Prognostication Contest, and four out of five agree that Indiana Jones and the Kingdom of the Crystal Skull will be the highest opening weekend of 2008 (over Hancock, Harry Potter, Narnia: Prince Caspian, The Dark Knight, The Mummy: Tomb of the Dragon Emperor, and You Don't Mess With the Zohan). The one outsider, Richard Greenfield of Pali Research is under the belief that Harry Potter and the Half-Blood Prince might edge Indy out for the win, but we all know that just won't happen.
6 January 2008, nmancer @ 11:20 pm
The Academy of Motion Picture Arts and Sciences today announced the seven films still in contention for the Oscar for Best Visual Effects for the 80th Academy Awards. The list was narrowed from a field of 15 contenders by members of the Academy's Visual Effects Branch at yesterday's Bake-Off in Hollywood, with a final cut still to decide the three official nominees. Nominations will be announced on Tuesday, Jan. 22, at 5:30 a.m. (PT) in the Academy's Samuel Goldwyn Theater.
The seven pics left standing at this point are New Line's The Golden Compass, Warner Bros.' I Am Legend and 300, Disney's Pirates of the Caribbean: At World's End, DreamWorks/Paramount's Transformers and Universal's The Bourne Ultimatum and Evan Almighty.
The Academy's vfx unit will view 15-minute excerpts from each of the seven shortlisted films on Wednesday, Jan. 16. Following the screenings, members will vote to nominate three to continue on to the big show. The Academy Awards for outstanding film achievements of 2007 will be presented on Sunday, Feb. 24 at the Kodak Theatre at Hollywood & Highland Center. The ABC Television Network will carry the live telecast beginning at 5 p.m. (PT).
6 January 2008, nmancer @ 11:17 pm
In between threatening to show off his incredible "chocolate bar physique," Hell Boy 2 director Guillermo del Toro revealed to MTV that he is working on preliminary sketches for an upcoming "definitive take" on the Frankenstein monster. Del Toro says that his vision, which is in the earliest stages of pre-production, will not be a literal adaptation of Mary Shelley's classic novel, rather a permutation on the myth. It's all very cryptic, isn't it? Does this mean he'll be bringing Frankenstein into modern times or creating his own twisted Gothic fairy tale?
6 January 2008, nmancer @ 10:55 pm
(Source: chron.com) With the proposed sale of Rainmaker to DeLuxe for a package totaling $35 million, Digital Domain's proposed $100M million public float, and a possible sale of Sony Pictures Animation for $500 million, we take a look at the value of an effects house. What is it worth, what should it be worth and just how much has Pixar affected the market.
One of the greatest factors in determining the price or value of a facility is its role as either contributor or owner of the primary properties — in other words, does it make its own films or someone else's projects.
Pixar: On January 24, 2006, The Walt Disney Company agreed to buy Pixar for $7.4 billion through an all-stock transaction. The price set the bar for valuations. The acquisition was completed on May 5, 2006 (swapping one Pixar share for 2.3 shares of Disney), making Pixar a wholly owned subsidiary of Disney.
6 January 2008, nmancer @ 10:51 pm
Director Michael Bay has revealed that the sequel to Transformers will feature lot of new, unique robots. Bay wrote on his personal web site:
Transformers 2 will be coming soon. The new robots are really really unique and there are a lot of them this time.
Well before the first movie hit theaters, the film makers let slip that that Dinobots and Constructicons may be some of the groups that will appear in a potential sequel. A short video clip found on www.sectorseven.org, (enter "codeblack," click on the red hard drive, choose the N.B.E. 08 file) shows Dinobots leader Grimlock in his T-Rex form, crushing everything on his path. The excavator on the left could be Scavenger, from the Constructicons.
6 January 2008, nmancer @ 10:49 pm
A total of 10 technologies — including six for fluid-simulation developments that enable computer-generated water, smoke and explosions — will be recognized at the Feb. 9 ceremony at the Beverly Wilshire Hotel.
As digital technology has marched forward, Kodak has maintained its position to continue the development of film. This year, Kodak's technologies are being honored for breakthroughs in film speed, grain and sharpness. The company will receive an Oscar statuette.
Also in the area of film development, Jonathan Erland will receive the Award of Commendation for his leadership and efforts toward identifying and solving the problem of high-speed emulsion stress syndrome in motion picture film stock.
6 January 2008, nmancer @ 1:32 pm
[Editor's Note: This is awesome. Don't worry. No spoilers. But well worth the read
]
(Sourse: The Slate) The fifth and final season of HBO's award-winning series The Wire debuts Sunday evening. Its theme is the declining influence of the press. In August, as shooting was about to wrap for the last episode, the exhausted production crew and cast were advised they would have to rehearse and tape an unexpected additional four-page scene (see below and the following three pages). Although there was mild "grumbling," series creator David Simon told the Baltimore City Paper, "everyone acted professionally." Inexplicably, the scene will not be aired.