5 December 2007, nmancer @ 3:02 pm
Time Suck tells the touching story of two idiots who work in an office and send each other dumb web videos all day. Plus they're puppets. If I were to guess, I'd have to say that the guys who do this would list Greg The Bunny with a touch of Robot Chicken as their "strong influences".
More episodes here.
[Warning: Mild-ish strong language]
5 December 2007, nmancer @ 2:52 pm
NOTE TO HOLLYWOOD: Stop Killing the Past!
Not everything that used to be good has to be remade into something not good. This is something Hollywood has ignored for decades, but every time it happens, it still hurts a little more.
Matthew Fox (A Token for Your Thoughts and Party of F'n Five) has finished his part as Racer X in the upcoming live-action Speed Racer flic, and we hope it doesn't come off as awkward as Kevin Frasier's reaction shots in the linked interview below.
So Hollywood, do us a favor, and stay off our childhoods! Or is it childhoodren?
5 December 2007, nmancer @ 2:48 pm
The staff of Jimmy Kimmel Live has been being paid by ABC since the writers' strike began on November 5th, but that is no longer the plan, according to the network. Instead, Kimmel will pay the staff out of his own pocket, as other hosts, such as David Letterman and Conan O'Brien have been doing.
In the meantime, the only late night host to return to work is Carson Daly, who explained the reasons for doing so in his first opening monologue since his return. His justification is that there are 75 other staffers who would lose their jobs if he remained on strike, and that a lot of those people came with him when he made the move from New York to L.A.
5 December 2007, nmancer @ 2:42 pm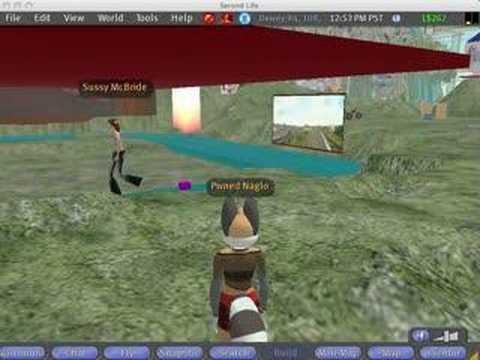 As reported, the RTSP vulnerability in QuickTime was accompanied by working exploit code, accelerating the process of malefactors and miscreants turning it into actual malicious payloads. Symantec & other outlets have since reported that the QuickTime exploit has been seen in the wild; the exploit causes Windows clients to download a secondary malware package.
Meanwhile, security researchers Charlie Miller and Dino Dai Zovi (he of the CanSecWest hacking prize) leveraged the QuickTime vulnerability to demonstrate an attack within the Second Life virtual environment. Since SL uses QuickTime to play video in-game, any player wandering within activation distance of the 'evil movie' can be pwned. Miller and Dai Zovi's demo causes the victim to gesticulate, shout "I've been hacked!" and — most disturbingly — send 12 Linden dollars to the attackers' SL account.
5 December 2007, nmancer @ 2:32 pm


The plugin formerly known as 'Moviestar' — Adobe's H.264-capable version of the Flash player — is now officially released for the Mac (along with Windows and Linux) and downloadable from Adobe's site. Sure, it can play back HD and fullscreen video, but will it reduce the performance hit that Mac users take whenever a Flash movie pops into a browser window?
If you've been running an early beta version of Flash 9 you may want to run Adobe's uninstaller before upgrading.
5 December 2007, nmancer @ 2:20 pm
Over at the Wall Street Journal, Ben Worthen posts that iPhones were responsible for 0.09% of all Web page views in November. In comparison, all the other mobile Windows-based browsers accounted for only 0.06% of page views. From this, we can deduce the following:
Viewing the Web on most mobile devices stinks.
Viewing the Web on the iPhone doesn't stink.
Most people still use computers to view the web.
5 December 2007, nmancer @ 2:00 pm
5 December 2007, nmancer @ 1:44 pm
Sesame Workshop is planning to produce two seasons of a new international series titled The Adventures of Bert and Ernie. This claymation spin-off revolves around the imaginative adventures of the classic Sesame Street duo. However the characters will not be puppets but rather full-body claymated figures brought to life though the art of stop-motion animation.
5 December 2007, nmancer @ 1:42 pm
A special preview screening has been shown of the six minute bank robbery opening sequence of The Dark Knight that will be screened in front of IMAX showings of next week's I Am Legend and UGO.Com has posted up a transcript. Here's just a sample (SPOILERS AHEAD):
"Fichtner's bank manager then mutters something about there once being honor in the underworld of Gotham and this gets the clown's attention. The clown shoves a grenade in Fichtner's mouth with a string attached to the pin. The clown takes off his mask and we get an 80-foot IMAX Heath Ledger Joker face telling us "whatever doesn't kill us makes us stranger." It's chill inducing. People are going to lose their minds.
5 December 2007, nmancer @ 1:40 pm
The fact that women have made great strides in the entertainment industry but still face many challenges was a common theme addressed by various speakers Tuesday at The Hollywood Reporter's 16th annual Women in Entertainment Power 100 breakfast.
Speakers ranging from Jodie Foster and "Hairspray" co-stars John Travolta and Queen Latifah to Sherry Lansing, Lifetime execs Andrea Wong and Susanne Daniels and The Reporter's John Kilcullen and Elizabeth Guider noted that women have made significant progress from the early — and even more recent — days of the industry, evidenced by the fact that they are filling a greater number of positions in corporate offices and top creative roles.
« Previous Articles