27 August 2007, nmancer @ 7:55 pm
OK, so the site is finally back up and running. Its still very slow. But I was finally able to get to the screen below. I'd suggest you login when you get a chance and register. You have until noon tomorrow, although there are no guarantees that you'll still get a key as the text below states:
Your name will now be entered into a random drawing for Tokens into the Xbox 360 Multiplayer Beta. At 7pm PDT tomorrow, Tuesday August 28th, we will be drawing names for entry into the Beta. Within 72 hours of this Drawing, we will contact you via email with news on whether or not you were admitted. Even if your name is not chosen in the random drawing, there will be more ways to get into the Beta, and we will continue to update you on the details as soon as they're finalized!
If you are selected in the Drawing, please be patient and wait until you receive your token. We will be sending out Token Codes in batches to ensure the Xbox Live servers are ramped up at a safe pace.
If you use an email client such as Yahoo, G-mail, or Hotmail, please be sure to check your junk mail folder for news on whether or not you've been selected. Also, please add Cod4beta@infinityward.comto your address book. This will ensure that you don't miss out on any of the action.
Check back into Charlie Oscar Delta for Updates, and don't forget: this is a Beta! You can send us your feedback at betafeedback@infinityward.com as well as post your thoughts on the Charlie Oscar Delta Boards. We'll be reading your Feedback, so please let us know what you think!
27 August 2007, nmancer @ 2:50 pm
The hardworking detectives over at xbox360achievements.org revealed the full list of achievements for the Xbox 360 version of Guitar Hero 3.
While most achievements are pretty much standard issue, there's some curveballs thrown in there. For instance, I'd like to see someone do this one:
Beat any song on the expert difficulty with the games sound options turned down to zero.
and this achievement should be called "destroy your friendship."
5 Star all Co-op songs on Expert
But, the most tantalizing achievement:
Meet your Maker: Beat one of the creators of Guitar Hero 3 at their own game.
27 August 2007, nmancer @ 2:04 pm
I've read a posting by an Activision employee that states the following:
The site is in maintenance mode right now. After it comes back up you'll have a 24 hour period (everyone will) to sign up.
So whether you're able to get on the site within the hour, or log on at midnight tonight, you can sign-up and have an equal chance at a token.

We will then take that massive database of sign-ups over the next 24 hours, and distribute all available tokens to the members who sign-up.
The word "chance" was emphasized. So there still will be a 'limited' number of tokens. But just because the site is down now doesn't mean you won't get one. Just be aware that the sign-up is only for 24 hours.
 IMPORTANT:  In order to make your life easier once (if) you do get in, the following are supposedly the answers to the three trivia questions:
British S.A.S
Deep Impact
Helicopter support
Good luck!
27 August 2007, nmancer @ 1:51 pm
Well, after spending over an hour hitting "Retry" because their servers were overwhelemed, I finally reached a page with the following:
Although Charlie Oscar Delta's Token Codes have been reserved, there will be many more opportunities to get into the Beta! Check back into SITREP often, as we'll be updating the site with information as soon as it's finalized.

In the United States and Canada, we are working with GameSpot and GameStop on two new ways to reserve a spot in the Beta. Our International users will be excited to learn that plans to get into the Beta are moving along quickly, and we'll have updates for all the countries listed in the FAQ soon!
After which I tried logging in again and got the following:
Rumors abound as to whether the tokens are really all gone or not. I'll keep my eye on the situation and post again when I find out more.
27 August 2007, nmancer @ 11:23 am
Q: "Recent polls have shown that one-fifth of Americans can't find the US on a world map. Why do you think this is?"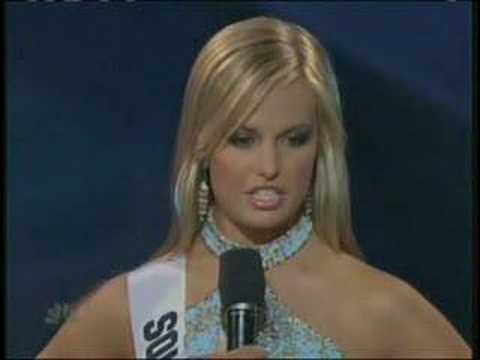 A: "I personally believe that US Americans are unable to do so because some people out there in our nation don't have maps and I believe that our education like such as south Africa and the Iraq and everywhere like such as and I believe that they should our education over here in the US should help the US or should help south Africa and should help the Iraq and the Asian countries so we will be able to build up our future."
27 August 2007, nmancer @ 11:11 am
Actor Keanu Reeves has signed onto Twentieth Century Fox's remake of the 1951 science fiction classic The Day the Earth Stood Still, to be directed by Scott Derrickson (The Exorcism of Emily Rose) from a script by David Scarpa.Reeves will be playing the part of Klaatu, a humanoid alien who arrives on Earth accompanied by an indestructible, heavily armed robot and a warning to world leaders that their continued aggression will lead to annihilation by species watching from afar.
The production is looking at a late fall or early 2008 start as a planned tentpole for the studio.
27 August 2007, nmancer @ 10:05 am
If you have an XBox 360 and would like to participate in the open beta for Call of Duty 4, tokens are available starting at noon today (Monday, August 27). First go to the beta site and register. Starting at noon, you'll be able to register for a 'token'. The token is a code that you enter at your XBox Dashboard under "Redeem Codes" which will then let you download the game to your XBox (you'll need 1 Gig of free disc space). You will have to answer three 'trivia' questions and you have to have an XBox Live Gold account (you can't do it with the free Silver account). The tokens are given on a first come, first served basis and there are a limited number available. So I recommend you get in there as close to noon as possible. Good luck!