10 August 2007, nmancer @ 5:19 pm
Blockbuster took a futile swing into the darkness to try and compete with NetFlix, purchasing Movielink, a company that allows you to download films from many major studios. The good news? There's a thick library of films to choose from, as the company has the cooperation of those studios. The bad news? There's DRM up the proverbial wazoo, making it inconvenient to use the content when you've downloaded it.
Blockbuster has been parrying NettFlix for the better part of two years now, since the online movie rental company has become the juggernaut it is. In the meantime, Blockbuster is still tied to brick-and-mortar establishments, which cost a lot fof money for rent and overhead, and it plunging dangerously toward bankruptcy. We'll see what happens next.
10 August 2007, nmancer @ 5:14 pm
10 August 2007, nmancer @ 5:11 pm
10 August 2007, nmancer @ 5:06 pm
A lot of the locations that HBO's The Sopranos used for the last several years were real. One important one, however, was not, and it's now being demolished. Satriale's Meats, where Tony and his associates ate, met, and occasionally disposed of dead bodies, is being broken down brick by brick and sold online for $25-$50 a piece.
Yes, you too can own a piece of Sopranos history, along with a serial number and certificate of authenticity. It will be like you're really on the show! The best part of this story is that the site is being demolished so that condos can be built there. The name of the condominium complex?
10 August 2007, nmancer @ 5:00 pm
EA and Hasbro announced a partnership that will bring classic board game franchises to the video gaming market. With games like Monopoly, Scrabble, and Yahtzee under Hasbro's umbrella, the possibilities seem endless. The partnership plans to bring these games to all possible platforms, including mobile, online, handheld, PC, and consoles.
"The gaming market has never been more primed for a revolution in how families enjoy games," said Kathy Vrabeck, President of EA Casual Entertainment. "Hasbro is the ideal partner to help propel this change. Their games define fun. These are games that we all love and remember from our childhoods. The combination of EA's market leadership in the interactive space and Hasbro's timeless franchises is a perfect partnership for today's market. Together EA and Hasbro can create the next generation of fun for a new wave of kids and families."
10 August 2007, nmancer @ 4:59 pm
Funcom announced today that their upcoming MMO Age of Conan: The Hyborian Adventures has been pushed back to a release date of March 25, 2008. After spending time with the beta, it was determined that they needed more time to bring the game up to the level of expectation set after E3 and numerous favorable write-ups in online publications.
Age of Conan does appear to be one of the more anticipated MMOs coming out, and if this delay gives us a better, more polished game, you can't really fault Funcom for their decision.
10 August 2007, nmancer @ 4:58 pm
A small number of iPhone users are receiving help from Apple after reporting that their handsets have permanently lost responsiveness to touch input across portions of the screen.
Customers posting to Apple's support forums (1, 2, 3) note the issue occurs without warning and usually affects a half-inch strip of the screen that spans the width of the device when held vertically.
Members of the AppleInsider and MacRumors forums have also spawned threads on the matter. They explain that the dead strips usually appear a half-inch from the top or bottom of the iPhone's display, often disabling access to critical controls or shifting the touch input to the wrong region.
10 August 2007, nmancer @ 4:58 pm
Visual effects innovator Hoyt Yeatman — who won an Oscar for visual effects in "The Abyss," as well as a 2000 Academy of Motion Picture Arts and Sciences Technical Achievement Award — has co-designed a 360-degree high dynamic range camera that captures the lighting dynamics of a motion picture location or set, for use when making a movie that combines live action and CG.
10 August 2007, nmancer @ 4:57 pm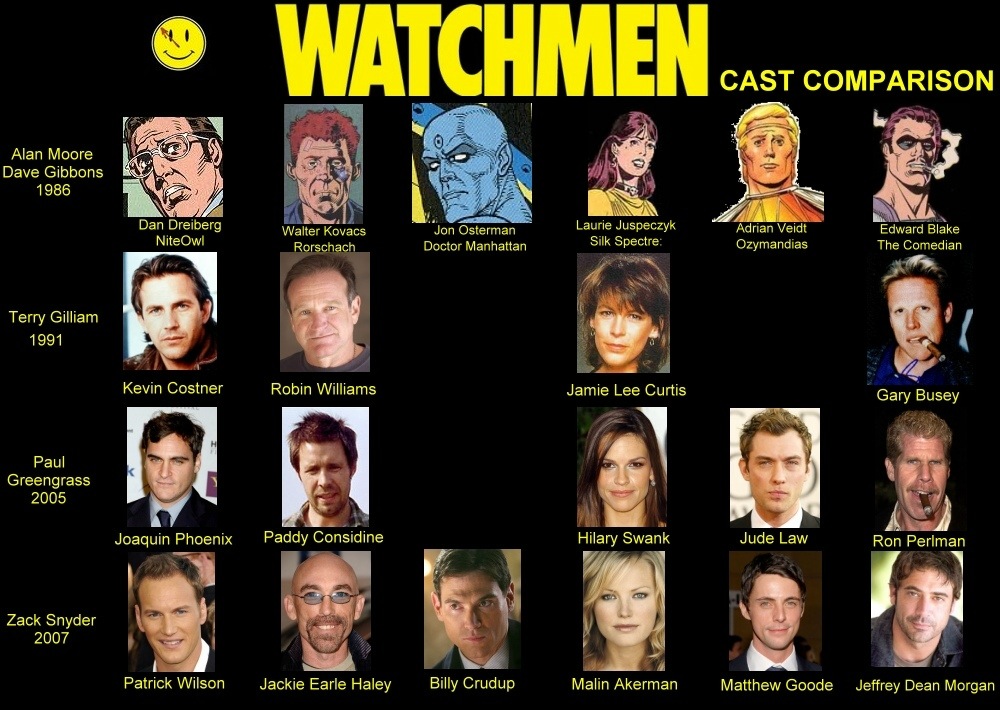 FilmIck have posted a visual guide to the Watchmen casting. The guide compares the characters to the various actors who were supposed to play them over the years. I'm unable to connect some of these names to the directors, but most of them seem legit. Click on the image to enlarge. Watchmen is a classic graphic novel, and I've had a lot of pretension to a big screen adaptation. But after hearing Zack Snyder speak about the project at Comic-Con, I was immediately sold. He said all the right things, and addressed most, if not all, of my hesitations. I don't know if Watchmen should come to the people, or if the people should come to it, says Snyder. If you get in the place in your life when you need watchman you'll go find it. I don't think we're going to try to make it accessible to teenyboppers. Snyder' Watchmen will hit theaters on March 6th 2009.
10 August 2007, nmancer @ 4:57 pm
Film-game convergence has become an increasingly hot topic lately, and at a Thursday morning SIGGRAPH panel, technical leads from LucasArts and ILM discussed how they have now made convergence a reality.
The panelists – ILM's Steve Sullivan and David Bullock, and LEC's Nick Pavis and Nick Porcino – discussed the process of integrating their successful feature film and video games divisions, and outlined the challenges and successes of the first large-scale studio convergence.
While Sullivan has previously discussed this process with Gamasutra, and there was additional background at the recent Hollywood & Games Conference, this is a notable milestone in that key technical staff from both sides of the integration have discussed current progress in public.
« Previous Articles
Next Articles »