31 August 2007, nmancer @ 11:57 am
Kerner Mobile Technologies, the pioneer and leader in mobile 3-D entertainment solutions, today announced the debut of the first in its new line of Kerner 3D Mobile Cinemas at the California Speedway in greater Los Angeles on Labor Day weekend. Kerner Mobile's 30 foot 3-D movie screen is set inside a 10,000 sq. ft. tented theater, the world's leading tent and display designers.
"The Kerner 3D Experience is an incredible display of breathtaking digital 3-D animation for people of all ages to enjoy," said Dan Nelson, CEO of Kerner Mobile Technologies. "It's the first theater of its kind, and we are excited to debut at California Speedway this year."
31 August 2007, nmancer @ 9:04 am
Following on the heels of the Universal Music/iTunes rift, NBC/Universal has declined to renew its iTunes contract according to the NY Times. The current deal is due to expire this December. 1500+ hours of NBC Universal content, including The Office and Heroes, will remain on iTunes until that time. So what happens after December? Between now and then, the two parties may return to the negotiating table–or they may not. Seems to me that iTunes sales have got to be putting some money in NBC/Universal's pocket. iTunes almost singlehandedly turned The Office into a hit, allowing people to catch up and join in with its episode backlog. To quote our own Scott McNulty, this continues the trend of content providers trying to "show their might and put Apple in its place."
31 August 2007, nmancer @ 8:53 am
Apple and Google have developed a close relationship. When you tap the iPhone Safari address bar, a screen opens offering both a keyboard and a search field. By default, this field is tied to Google. When empty it says Google in dim gray letters. When you start to type in text the Go button changes to Google.
But there's a way around that.
You can use Yahoo rather than Google as your search provider. From your Home screen, go to Settings > Safari. The first setting lets you choose whether to use Google or Yahoo as your search engine. When set to Yahoo, both that gray text and the search button change from Google to Yahoo, as well as your searches.
30 August 2007, nmancer @ 6:02 pm
It's a shame dieting can be so boring and exercise, for the most part, is such a chore. However, fashion fan and skinny girl, Jessica Alba might have found a way around the boredom. Alba, who apparently shuns diets and personal trainers, has taken up a Nintendo Wii workout.
Nintendo Wii is the must-have video game console that works up a sweat. (Yep, a gaming system that isn't associated with sitting on your behind wasting the day away.) Nintendo Wii isn't just for dudes either. With Wii tennis and Wii boxing you can burn about 560 calories per hour. Nintendo is even coming out with a new game called Wii Fit that will be just like having a personal trainer.
30 August 2007, nmancer @ 5:08 pm
Not that anyone who lives in the fair city of San Francisco was really all that confident that the muni WiFi project would ever make it off the ground — even despite Major Gavin Newsom's best intentions — but now it looks like bad's gone to worse. As you may have read, yesterday EarthLink laid off nearly a thousand employees, and word came today that addition to that news, it's latest corporate restructuring would have it completely backing out of investments in its San Fran WiFi project contract, as well as the WiFi contracts in other cities. Again, not the most earth quaking news, given the word we received from the city that they were more or less pulling the plug anyway.
30 August 2007, nmancer @ 4:17 pm
CNET's Don Reisinger has a great article up about what may have been Steve's Master Plan: letting an iPhone unlock happen.
Pretty ingenious if it's true. Basically, Reisinger maintains two things: that Apple is a hardware company, and that AT&T was just a means to an end for them. If hackers are able to unlock the iPhone, Apple will lose a little bit (because they do get a small cut of service plans), but they'll still sell iPhones, and AT&T will lose everything. Jobs "did his part"– he closed off the iPhone and declared an exclusivity deal. But now that we're on the verge of completely unlocked iPhones, Apple has no real incentive to cut it out.
30 August 2007, nmancer @ 3:58 pm
CarMagazine.co.uk has a feature about the upcoming Jaguar XF, and an interview with the designer, Ian Callum.
The interview concludes with Callum talking about the new Jaguar's gearshift mechanism ("JaguarDrive"), and claims that Apple has had some involvement with their design: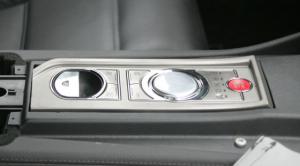 'Step inside and the starter button starts to pulsate like a heartbeat. Press it and the car comes to life. The air vents rise up and the JaguarDrive Selector pops up. We took so much comment on the old J-gate change and felt it was time for a change. The dial takes up less space, too. We have been working with Apple on control interfaces.
30 August 2007, nmancer @ 3:47 pm
Labor Day is all about honoring our nation's working people by having sales! That way, people who actually labor has to go to work and sell us mattresses, but everyone else can enjoy a BBQ and a nice nap. Thankfully, Xbox is bringing bargain basement games to the people on Labor day weekend. Four titles from the Xbox Live Arcade are having their prices slashed and decimated. Check it out:
Gauntlet
Dig Dug
Small Arms
Zuma Deluxe
Gauntlet and Dig Dug will be 200 Microsoft points each, or $2.50. Small Arms and Zuma Deluxe will be cut to 400 Microsoft points, or $5 a pop.
So git em while they're inexpensive. The sale begins this Sunday and continues through Monday.
30 August 2007, nmancer @ 3:33 pm

The iPhone home screen doesn't scroll. This 16-application limit is just a reality most users have come to accept. Third party developers have turned to launcher apps that search for additional applications and let you choose one from a list. Today, Nate True introduced an iPhone mod that smashes these launchers into yesterday's news.
True's Dock package loads your entire application collection into a single usable list that appears directly on your homescreen. Just use a finger to scroll the bottom row of icons left or right and tap the application you want to launch.
30 August 2007, nmancer @ 2:54 pm
First-person PC shooter Kwari is separating itself from the pack of shooting games with an interesting revenue structure. Get this:The game is free to download and free to play. But the company sells you your ammunition. Here's the cool part:
Kwari pays you cash-money for your kills.
Gamers playing Kwari for cash set up an account, are matched on the basis of skill, and enter a game at a pre agreed stake level ranging from one cent to one dollar a hit. During the four-round matches, every time a player hits another, money is decremented from the target's stake and added to the shooter's. In a way, the player's money stake mirrors their in-game health, except it's exchanged from one player to another. Think of it as an anti-social-network.
« Previous Articles
Next Articles »