2 July 2009, nmancer @ 12:31 pm


(Source: The Hollywood Reporter) Universal has won a four-studio bidding war to pick up the film rights to the classic Atari video game "Asteroids," says The Hollywood Reporter. Matthew Lopez will write the script for the feature adaptation, which will be produced by Lorenzo di Bonaventura.
In "Asteroids," initially released as an arcade game in 1979, a player controlled a triangular space ship in an asteroid field. You can play an unofficial version of the game below!
Universal is also developing movies based on Hasbro board game properties such as "Battleship," "Candyland," "Ouija," "Monopoly" and "Clue."
19 June 2009, nmancer @ 5:07 pm
[If it won't play, try this URL: http://www.youtube.com/watch?v=r87wJ1QmyYw and if you're lucky you'll get the ad for "Free Laser Hair Removal" at the bottom]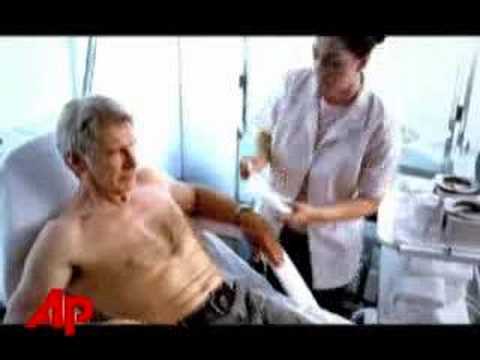 15 June 2009, nmancer @ 10:30 am


(Source: contracostatimes.com) Casa Grande, the main house at the Hearst Castle in San Simeon. (Creative Commons, Flickr/Peter Kemmer, PKMousie bottom: Provided by Lucasfilm)
A media mogul becomes rich and builds his own Xanadu, micromanaging the design of each stately edifice.
Critics of Marin County filmmaker George Lucas assert that this description equally fits both Lucas and William Randolph Hearst, the newspaper magnate who inspired the 1941 film "Citizen Kane." Now Hearst and Lucas appear to have something new in common.
5 May 2009, nmancer @ 11:13 am
23 April 2009, nmancer @ 10:27 am
(Source: BoingBoing) Researchers at Seoul National University in South Korea have successfully made transgenic puppies, according to New Scientist. The baby beagles carry a gene normally found in sea anemones, which means….yes….these fuzzy-wuzzy little puppykins glow in the dark. Thank you, science.
What, you may ask, is the point of a glow-in-the-dark dog? Er, well, this seems to be the point where everybody starts shuffling their feet and staring awkwardly up at the ceiling. One member of the research team says the experiment is basically just a proof-of-concept. What they really want to do is make transgenic dogs that could serve as research models for human disease. But while the other scientists interviewed in the article seem to agree that glowing puppies are a pretty damn awesome accomplishment, they're less convinced on any near-term practical applications of the technology.
23 February 2009, nmancer @ 12:07 pm
17 February 2009, nmancer @ 10:45 am
(Source: news.bbc.co.uk)  Sir Elton John is to make a sci-fi horror film where aliens wreak havoc on a Jane Austen-style period drama.
The pop star's film company, Rocket Pictures, has announced plans to start filming Pride and Predator in London later this year.
"It felt like a fresh and funny way to blow apart the done-to-death Jane Austen genre," producer David Furnish told Variety magazine.
Sir Elton will supervise the music and act as executive producer.
The movie will be directed by Will Clark, who previously helmed 2007 short film The Amazing Trousers.
12 February 2009, nmancer @ 11:35 am
Hollywood filmmaker George Lucas apparently considers Barack Obama to be a real-life hero, for he says that the 44th U.S. President is more powerful than Luke Skywalker, the main protagonist of his Star Wars films.
He expressed this view when he was honoured with the Ford Theatre Society's Lincoln medal in a ceremony attended by Obama in Washington on Wednesday night. Lucas said that in contest between Skywalker and Obama, the latter wins hands down, even without the lightsaber.
Also honoured with the Lincoln medal during the event was screen legend Sidney Poitier. According to Policito.com, Poitier said that Obama's rockstar status was still going strong.
10 February 2009, nmancer @ 10:59 am
This year the Oscars are doing something a little different, what exactly no one really knows outside of 81st Academy Awards®, telecast producer Laurence Mark and executive producer Bill Condon and I would assume President Sid Ganis. Hints have been dropped such as the original shorts to be created by Judd Apatow, Baz Luhrmann and Bennett Miller and we also expect Hugh Jackman will break out into a dance number of some sort just to appeal to the Wolverine fans, but beyond that we are in the dark. However, we do know of one feature that will not be seen at the Oscars — Giant Robots!
In an exclusive interview Transformers: Revenge of the Fallen helmer Michael "The" Bay tells us when he got wind the producers of the Oscars were looking to go a different direction this year with the telecast he approached them with a pitch to bring Optimus Prime, Megatron and others from his feature film based on the toy line to the show. "I told them there was only one way to make the biggest award show on the planet even bigger outside of holding it at the Pentagon, and that was to feature the robots from my movie," The Bay told me during a phone call early this morning.
3 February 2009, nmancer @ 11:14 am
Ford's Theatre Society will host a Grand Reopening Celebration on Wednesday, February 11, 2009, at Ford's Theatre (511 10th Street NW). The invitation-only evening will include the presentation of the Lincoln Medal to filmmaker George Lucas and screen legend Sidney Poitier, whose accomplishments exemplify the character and lasting legacy of President Abraham Lincoln.
The evening's performance, titled "Birth and Rebirth: A Celebration of the Lincoln Bicentennial and Reopening of Ford's Theatre," will be followed by a seated dinner at the National Portrait Gallery and Smithsonian American Art Museum (750 Ninth Street NW).
« Previous Articles